Career Direction – Online Master in Finance and Investments
The online Master in Finance and Investments course structure is specifically crafted to boost your employability. We constantly review and update its content to ensure you graduate with the qualities top businesses really need.

Key Facts
Duration: 18-36 Months
Start Dates: January, April, July, October. 
Campus: Online
Fees: £8000 (Student Payment Plan available)
Our focus on practical skills
This course's relevant theory fully prepares you for professional success. As a graduate, you will be able to work internationally in a number of professions. These include:
Retail Banking
Investment Banking
Private Banking
Mergers and Acquisitions
Actuarial
Our student community consists of ambitious people from all corners of the globe, allowing you to gain a truly international learning experience.
The average age range of current students is 26-35 years, with 55% of these students being male and 45% female.
The average years of work experience amounts to 2.5 years (although, please note, that no work experience is required to enter this programme). Our current students come from diverse backgrounds, with experience in accounting and finance, business, science and technology, law, and art.  
Student nationalities by percentage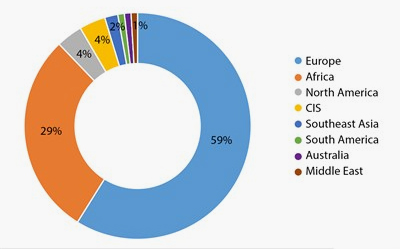 From online Master in Finance and Investments students, 2015-2016
Student comments
Working at an investment bank and studying at the same time was quite tricky, but I soon learned that time management is key to making the whole process work for you. It was very rewarding to be able to combine my studies with my work, and also very useful because I was able to do research for my studies during my work hours. Business School
"I chose to study at LSBF because British qualifications are respected and recognised around the world" Business School
"The programme was designed with a global approach and focused on finance in an international environment" Business School
More student stories