LSBF hosts successful careers event for aspiring accountants
London, 12 February 2020 – London School of Business and Finance (LSBF) hosted the 'Your Future in Accountancy' career event, on Saturday 8 February in Bunhill Row, London.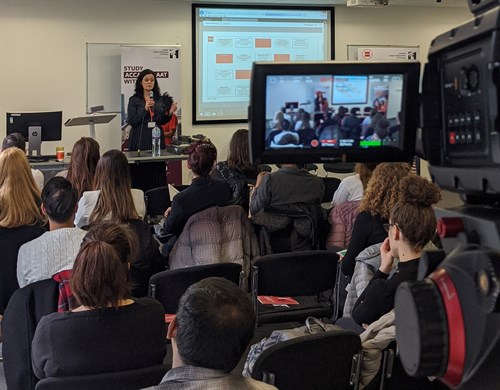 Organised in collaboration with PQ Magazine, a leading publication in the accountancy training and professional sector, the free conference was open to anyone considering a career in this field or looking to take the next step in their accounting career.
Throughout the day, a range of speakers and experts from the world of accountancy took the stage to help the 120 attendees understand what the market wants, what employers are looking for as well as what qualifications are available.
Rob Sowerby, Director of Professional Training at LSBF, welcomed the audience: "Deciding on a possible future career path can be difficult. Hopefully, by joining us today, we can provide you with some of the information you need."
The line-up of speakers featured senior representatives from both the Association of Chartered Certified Accountants (ACCA) and the Association of Accounting Technicians (AAT), sharing their perspective on the future of the profession.
Great insights were also brought by Lubna Farhan, accountant and star of BBC's The Apprentice, and Claire Bennison, Head of ACCA UK. They discussed what the future accountant will look like, providing an employers' perspective on future careers.
One of the highlights of the conference was Richard Murphy, Professor of Practice in International Political Economy at City University and Director of Corporate Accountability Network. His presentation focused on how accountants can save the planet, looking at how this affects businesses and what choices accountants can make to be a positive force.
Mr Sowerby added: "Accounting is a wide-ranging profession that can take you down a variety of paths. We can't look at all of them, but we can give you a flavour of what your future job may entail."
---
View other sections in Press & Media