London School of Business and Finance signs MoU with Trevisan to bring international programmes to Brazil

London, 28 May 2019 – London School of Business and Finance (LSBF) has today signed a Memorandum of Understanding (MoU) with Trevisan – Escola de Negocios, a business school based in Brazil.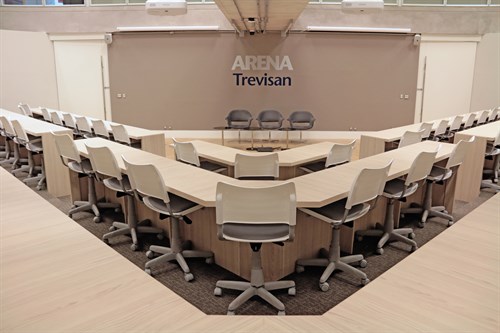 The agreement will see LSBF and Trevisan Business School working together to bring programmes to Brazil. These will be made available to Trevisan's students through online and on-campus delivery.
Established in 1983, Trevisan is focussed on preparing students for the job market, with locations in Sao Paulo, Rio de Janeiro and Ribeirao Bonito (State of São Paulo). The institution promotes professional development through innovative solutions and excellence in teaching and management, focussing on training and development of professionals that generate effective results in organisations and in society.
The collaboration with London School of Business and Finance will allow its students to access internationally-recognised courses in their own country. These will include degrees in business administration, executive education programmes and accounting qualification for the Association of Chartered Certified Accountants (ACCA).
Antoninho Trevisan, Founder and Chairman of Trevisan's Board of Directors, stated: "The partnership demonstrates the school's commitment to the internationalisation of education in Brazil. It also opens up opportunities for innovation and technological advancement.
"Just as we were pioneers in the international partnership in auditing and consulting, we are now doing the same in education because the world is moving towards the integration of knowledge and exchange of best practices of each country. This is another step in line with the decision to bring the largest auditing and consulting companies to our academic environment, which culminated in the Corporate University of one of the "Big Four" in our campuses in São Paulo and Rio de Janeiro."
VanDyck Silveira, CEO at Trevisan, said: "This partnership will be extremely important to our students, who will now have access to some of the most prestigious business education institutions in the world through courses with updated content of great value, which will make a big difference in their careers.
"The range of programmes will enhance learning opportunities for undergraduate and postgraduate students in Brazil, as well as support local businesses and companies looking to invest in the professional development of their employees."
Dessy Ohanians, Managing Director Certificate and Corporate Programmes, commented on the agreement: "Brazil is one the largest economies in the world with a growing appetite for truly international higher education. This partnership is key to our transnational education development, unlocking new markets and resources to promote our unique blend of education.
"We are looking forward to working with a leading provider such as Trevisan, and to launch the first courses before the end of the year. At LSBF, we are committed to widening access to quality education, giving people the opportunity to develop their careers. With this agreement we aim to provide an alternative to those students who don't have the means to fulfil their desire to study abroad."
---
View other sections in Press & Media