PQ Awards 2019: LSBF wins 'Lecturer of the Year' with Brigita Petrova

London, 28 February 2019 – London School of Business and Finance (LSBF) has won in the "Lecturer of the Year" category at the 2019 PQ Awards, with ACCA tutor Brigita Petrova receiving the sought after accolade.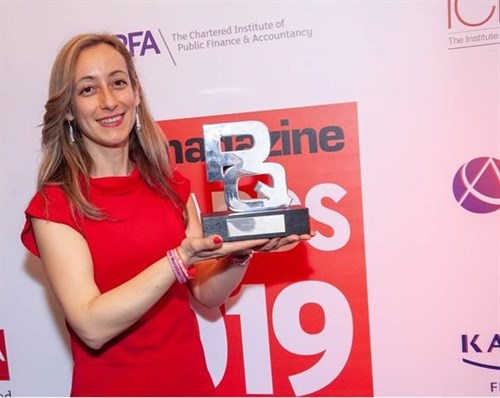 Brigita has a Bachelor's degree in Accounting and Control from the University of World and National Economy, Bulgaria. After her graduation, she worked in various roles before moving on to the finance department of London City Airport.
Brigita, who specialises in Management Accounting, Law and Audit, has been a tutor at LSBF since 2012, after making the successful transition from student to lecturer within the institution. Brigita is a very popular tutor with LSBF students, combining an engaging teaching style with her deep understanding of the subject and the ability to communicate the technical aspects.
"I am thrilled to have won such a prestigious award. I realise how lucky I am to be learning from the best – my tutors (who subsequently became my colleagues at LSBF) - as well as having such amazing students, allowing me to grow while leading them to their own success," she said.
"It is awesome to be recognised, and to see what a difference I have made to students. I am incredibly grateful and touched by the support of the many who voted for me in the run to the awards."
The PQ Awards ceremony was held on Tuesday 26 February and saw the participation of the biggest names in the accountancy education sector. These awards recognise excellence in training solutions and teaching methods, and have become a synonym for quality in the sector. LSBF has become a regular fixture in the competition, receiving multiple nominations throughout the years and securing numerous wins in key categories.
Rob Sowerby, Director of Professional Courses at LSBF, said: 'We are delighted that LSBF Professional School has again been recognised at the PQ awards. This is the third time we have won the 'Tutor of the Year' category in recent years, a reflection of the industry recognising the strong calibre of our tutors.
"We also came close in other categories, having received six more nominations. This alone shows the depth of competence and innovation that runs through the school from top to bottom."
Photo credit to PQ Magazine
---
View other sections in Press & Media