Higher education institutions launch #CareersInCharity campaign to celebrate International Day of Charity
London, 5 September 2018 - London School of Business and Finance (LSBF), The University of Law Business School, and GISMA Business School have launched a joint campaign to increase awareness around career opportunities in charity organisations.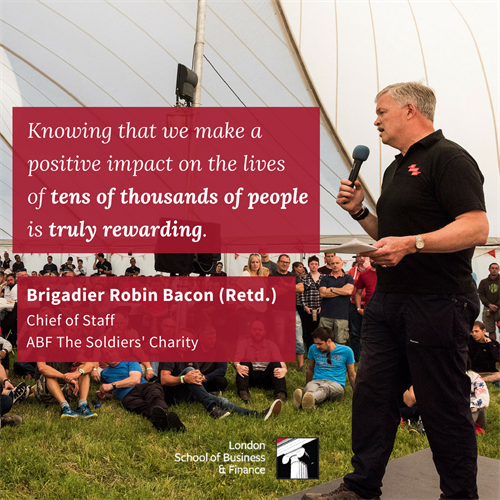 The International Day of Charity is celebrated annually on 5th September, to raise awareness and provide a common platform for charity related activities all over the world. The higher education institutions supported this year's initiative with the #CareersInCharity campaign through interviewing senior executivs at various organisations.
The interviewees have been working in the non-profit sector for several years, being able to gain vast experience in this field and prove that it can be an incredibly rewarding career destination. Charities participating in the campaign included ABF The Soldier's Charity, CoppaFeel! And CALM.
LSBF interviewed Brigadier Robin Bacon (Retd.), Chief of Staff at ABF The Soldiers' Charity, about what a career in the charity sector means to him.
The charity sector is often overlooked as a career destination; and so the #CareersInCharity initiative is aimed at showcasing the professional journeys of individuals who achieved key roles in major charities across the UK. Accordingly, the representatives were interviewed about their work, inspiration behind the career choice and necessary skillset while also providing advice for graduates willing to join the charity sector.
Among their biggest motivations, they mentioned spending time making a difference, feeling part of the organisation and creating a positive impact on people's lives. They also focused on the importance of ensuring one has a passion for what the organisation does and recommended starting with volunteering or fundraising activities.
GISMA Business School, LSBF and The University of Law Business School are part of Global University Systems (GUS), an international network of higher education providers. GUS delivers a wide variety of programmes to over 50,000 students worldwide, championing a passion for accessible quality education.
The interviews were hosted on the institutions' websites and social media channels on International Day of Charity, 5th September 2018.
About London School of Business and Finance (LSBF)
London School of Business and Finance (LSBF) is a global provider of professional, executive, vocational and higher education. With campuses in the UK and internationally, LSBF offers industry-relevant programmes that are tailored to the career goals of today's students and professionals.
Under the royal patronage of Prince Michael of Kent, LSBF has a powerful e-learning platform as well as over 130 programmes, covering industries from fashion to finance. LSBF is also a Queen's Awards for Enterprise winner, one of the highest business accolades in the United Kingdom.
About The University of Law Business School
The University of Law is the UK's longest-established specialist provider of legal education and training. It is now bringing its expertise in quality education to the business world, with undergraduate and postgraduate programmes that focus on practical learning, personal development and employability.
As part of The University of Law, business school students are joining an institution which has received a gold ranking for its teaching, learning and outcomes in the government-led Teaching Excellence Framework (TEF) in 2017.
About GISMA Business School
GISMA Business School was founded in 1999 to support the business community of Lower Saxony in its internationalisation efforts by providing Global Management education to young professionals and executives from Germany and around the world.
Since then, GISMA has established a global community of alumni who have accelerated their careers in Germany and abroad with a solid foundation in management theory and invaluable connections with fellow alumni. GISMA classes are taught by an expert faculty from around the world who bring both academic and practical experiences to the classroom.
---
View other sections in Press & Media