LSBF Singapore wins Excellence in Curriculum and Assessment at EducationInvestor Asia Awards 2018
Singapore, 17 May 2018 - LSBF Singapore won the award for Excellence in Curriculum and Assessment at the EducationInvestor Asia Awards 2018.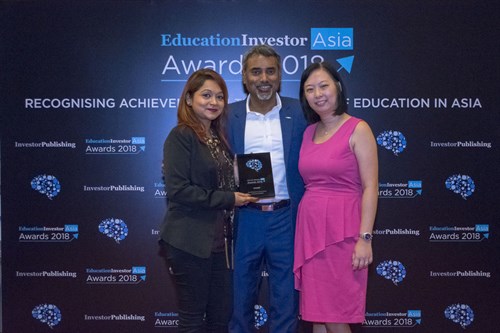 Held at Marina Bay Sands, the awards are presented to organisations that have made an outstanding contribution to education, with a view to promoting excellence and recognising innovation in the private education sector.
LSBF in Singapore beat four other institutions in the Excellence in Curriculum and Assessment category.
Receiving the award on behalf of the school were Ms Kasturi Dhanapal, Head of School of Hospitality and Wendy Wong, Head of the Registrar's Office.
"LSBF has won numerous awards in the last couple of years, but this award is testament to the quality and rigour of our academic programmes. At LSBF, we pride ourselves in developing programmes that are of relevance to students at the workplace. This award is in recognition of this effort. I am very proud of my academic team in achieving this award," said LSBF Global CEO Rathakrishnan Govind.
The EducationInvestor Asia Awards is part of EducationInvestor Global's initiative in bringing the Asian education industry together to celebrate achievements in the past year. The event was also preceded by the EducationInvestor Asia Summit, where Mr Rathakrishnan was invited to speak at a panel session titled 'Changing face of higher education in Asia'.
About London School of Business and Finance (LSBF) in Singapore
Ranked as the Best Private School in Accountancy and the Best Private School in Hospitality & Tourism in 2016, London School of Business and Finance in Singapore provides a focused, industry based education to more than 10,000 undergraduate and graduate students from more than 20 countries.
With the support of LSBF in the UK and the royal patron, His Royal Highness Prince Michael of Kent GCVO, we equip our students with the requisite knowledge and skills through 6 unique learning entities – School of Professional Education, School of Business, School of Hospitality, School of English, Chinese Business Department as well as Executive Development & Online Unit.
As a global institution, our focus is on providing great student learning experience – in the classroom and out of it. As a recipient of Asia Enterprise Brand Award in 2016, our footprint is cemented in Asia. With two campuses in the heart of Singapore's Central Business District, we are well positioned to present our students to great quality education and skills necessary to succeed in a career.
---
View other sections in Press & Media