Institute of Hospitality CEO visits LSBF in Singapore
Singapore, 1 May 2018 – London School of Business and Finance (LSBF) in Singapore was recently visited by Peter Ducker, Chief Executive Officer of the Institute of Hospitality (IOH).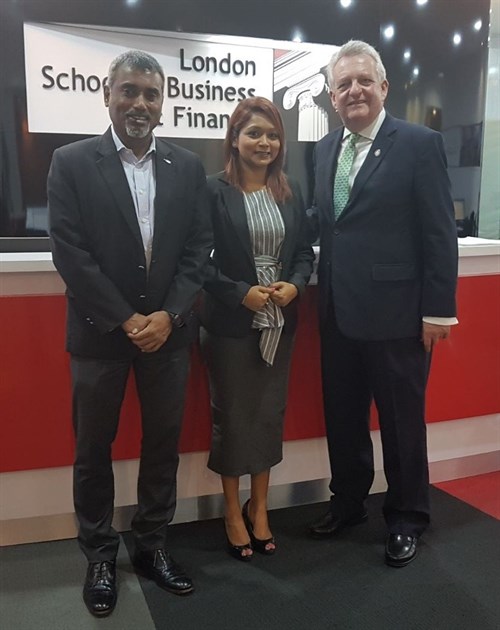 Mr Ducker visited LSBF's hospitality faculty following the accreditation awarded by the Institute of Hospitality in January. This accreditation is conferred to institutions which are internationally recognised as having met the highest quality and standard of programmes, which are relevant to the needs of the hospitality and tourism industries.
The IOH has been conducting reviews into the hospitality sector for over 75 years, seeking to improve the industry with the directive: "to promote the highest professional standards of management and education in the international hospitality, leisure and tourism industries".
Whilst visiting, Mr Ducker took the time to speak with the hospitality students, taking the opportunity to share his insights of the Institute and to encourage them on what they can look forward to, as they enter the future of the hospitality industry.
The Postgraduate Diploma in Hospitality and Tourism Management offered by LSBF in Singapore is designed to meet the increasing demand from Hospitality professionals for a postgraduate qualification. The programme provides students from other disciplines with the opportunity to make a change in their career and enter the hospitality and tourism industry.
About London School of Business and Finance (LSBF) in Singapore
Ranked as the Best Private School in Accountancy and the Best Private School in Hospitality & Tourism in 2016, London School of Business and Finance in Singapore provides a focused, industry based education to more than 10,000 undergraduate and graduate students from more than 20 countries.
With the support of LSBF in the UK and the royal patron, His Royal Highness Prince Michael of Kent GCVO, we equip our students with the requisite knowledge and skills through 6 unique learning entities – School of Professional Education, School of Business, School of Hospitality, School of English, Chinese Business Department as well as Executive Development & Online Unit.
As a global institution, our focus is on providing great student learning experience – in the classroom and out of it. As a recipient of Asia Enterprise Brand Award in 2016, our footprint is cemented in Asia. With two campuses in the heart of Singapore's Central Business District, we are well positioned to present our students to great quality education and skills necessary to succeed in a career.
---
View other sections in Press & Media