LSBF Singapore holds sixth Graduation Ceremony
Singapore, 2 June 2018 - 145 students from London School of Business and Finance Singapore graduated  in what was the school's sixth graduation ceremony at the Mandarin Orchard Hotel. The students graduated from ten separate programmes, including ACCA, Business Studies, Accounting & Finance and Human Resource Management.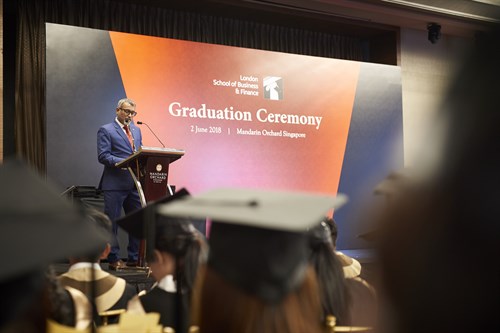 The ceremony also delivered awards to ACCA top affiliates and prize winners, including Tan Seng Mein – a top performing affiliate who won second place in Singapore for the Advanced Performance Management paper. LSBF Global CEO, Rathakrishnan Govind, addressed the new graduates in his keynote speech, highlighting the importance of skills such as critical thinking in the modern workplace. 
Ratha said: "Every graduation ceremony is a fantastic event, not just for the graduates but also for me and the Academic team. We are grooming future leaders and contributors of the world and equipping them with skills and knowledge for their careers. It's always good to see the results of the school's efforts on Graduation Day."
Regional Head of Business Development for ACCA, Steve Lee, also spoke about the day:  "I would say graduation ceremonies are always one of the best parts about my job. The ACCA qualification is very tough and challenging. We understand the sacrifices and hard work that the students put in. Therefore, seeing their happy faces on Graduation Day is tremendously fulfilling for me."
 About London School of Business and Finance (LSBF) in Singapore
Ranked as the Best Private School in Accountancy and the Best Private School in Hospitality & Tourism in 2016, London School of Business and Finance in Singapore provides a focused, industry based education to more than 10,000 undergraduate and graduate students from more than 20 countries.
With the support of LSBF in the UK and the royal patron, His Royal Highness Prince Michael of Kent GCVO, we equip our students with the requisite knowledge and skills through 6 unique learning entities – School of Professional Education, School of Business, School of Hospitality, School of English, Chinese Business Department as well as Executive Development & Online Unit.
As a global institution, our focus is on providing great student learning experience – in the classroom and out of it. As a recipient of Asia Enterprise Brand Award in 2016, our footprint is cemented in Asia. With two campuses in the heart of Singapore's Central Business District, we are well positioned to present our students to great quality education and skills necessary to succeed in a career.
---
View other sections in Press & Media