LSBF Winter Business School delegates visit ITSU headquarters
London, 12 February 2018 - On Friday 12 January, LSBF's delegates visited ITSU headquarters in London. During their visit, they were asked by ITSU's CFO Ganan Kanagathurai to conduct market research and make presentations based on questions from the company's management.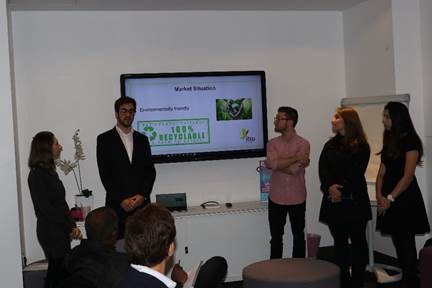 The 18 delegates then presented their findings to Ganan and ITSU's Learning and Development Manager, Marie Douvin.
LSBF Executive Education's Academic Programme Manager, Shane De Fonseka, who organised the event, said: "By being able to engage with real companies and putting learnt theories into practice, the delegates gain a much better understanding of what is being taught on campus.
"It helps them to improve their presentation skills while enabling them to see real establishments in operation. The associated research that led to this presentation will definitely help our delegates to shape their own research and analytical skills."
The industry visit is a recurring part of the Winter Business School and ITSU has offered to extend this project to Summer School delegates too.
LSBF's Winter and Summer Business Schools are ideal for undergraduates and graduates and consists of three courses, each targeting a specific area of business throughout one week. The Schools are structured across three courses - Global Marketing Practices, Corporate Finance in Practice and Strategic Management and Leadership.
---
View other sections in Press & Media