LSBF Executive Education's Winter Business School delegates visit Ormiston Wire
London, 27 February 2018 – Delegates from LSBF Executive Education visited Ormiston Wire, a family-owned specialist wire manufacturer in West London, as part of their studies at the Winter Business School (WBS).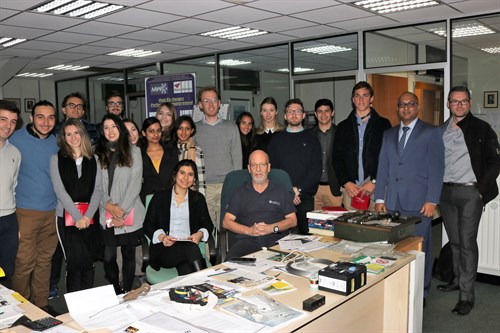 They were welcomed by the company's Managing Director, Mark Ormiston, who gave a speech and product demonstration. They were then able to visit Ormiston's factory where they met other officials.
As part of their visit, delegates prepared a presentation to explore how Ormiston can enter new markets. The presentation was based on research conducted during class with tutor Jose Scheurer, giving students the opportunity to put their knowledge into practice.
LSBF Executive Education's Academic Programme Manager Shane De Fonseka accompanied the delegates and said: "It was a great opportunity for both home and overseas delegates to visit such a prestigious manufacturer. They were able to share their ideas and apply what they are learning to a real life situation."
Founded in 1793, Ormiston Wire has won many prestigious awards - including the Queen's Award for Environmental Excellence. Their wires have been used by clients such as the ExoMars space programme, Warner Brothers (for Harry Potter's broom), Kew Gardens, and the British Antarctic survey.
"The students had the opportunity to see a family-run business up close, and get to know a different reality that values quality, success, and tradition. They met directly with the senior management of the company and were extremely happy with this visit," said Mr De Fonseka.
The visits to industries and companies are an important part of the Winter Business School, as they bring students closer to business world.
LSBF Executive Education's Winter and Summer Business Schools are ideal for undergraduates and graduates and consists of three courses, each targeting a specific area of business throughout one week.
The Schools are structured across three courses - Global Marketing Practices, Corporate Finance in Practice, and Strategic Management and Leadership.
---
View other sections in Press & Media