London School of Business and Finance in Singapore hosts students for English Summer Camps
Singapore, 15 August 2018 – London School of Business and Finance in Singapore (LSBF) has welcomed international students from different countries to its English Summer Camps.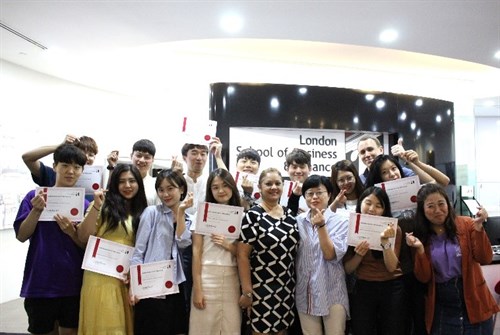 In July, LSBF in Singapore hosted students from Seoul's Hanyang Women's University, who took part in the summer programmes for the fourth consecutive year. The South Korean students experienced English lessons at LSBF, whilst also taking part in the many activities organised to enhance their learning experience.
At the same time, students from Seoul's Catholic University of Korea attended the Global Leadership Training Programme with LSBF in Singapore's School of English. For the second time this year, students from this institution participated in presentations and group activities to hone their leadership, communication and writing skills.
In the same month, 30 students from Macau's Pui Ching Middle School also attended English lessons and activities provided by LSBF in Singapore. LSBF's English Summer Camp aims to help international students learn and develop essential English skills including speaking, listening, reading, writing, vocabulary and pronunciation for everyday use.
Samuel Daimwood, LSBF in Singapore's Head of School of English, said: "These Summer experiences show that our School of English is more than just an academic department. Secondary school students, university students, and aspiring Korean hoteliers have all received highly customised courses that will have a real impact on both their language and future careers."
About London School of Business and Finance (LSBF) in Singapore
As the recipient of the Excellence in Curriculum and Assessment award at the EducationInvestor Asia Awards 2018, LSBF in Singapore provides a focussed, industry-based education to over 10,000 undergraduate and graduate students from more than 20 countries.
As a global institution, our focus is on providing a great student learning experience – in and out of the classroom. With the support of LSBF in the UK and the royal patron, His Royal Highness Prince Michael of Kent GCVO, we equip our students with the requisite knowledge and skills through 6 unique learning entities – School of Professional Education, School of Business, School of Hospitality, School of English, Chinese Business Department as well as Executive Development & Online Unit.
In 2016, LSBF in Singapore was ranked as the Best Private School in Accountancy and the Best Private School in Hospitality & Tourism in Singapore. As a recipient of the Asia Enterprise Brand Award, our footprint is cemented in Asia. With two campuses in the heart of Singapore's dynamic Central Business District, we are well-positioned to present our students to great quality education and skills necessary to succeed in a career.
---
View other sections in Press & Media