LSBF in Singapore honoured at AmCham CARES award
Singapore, 20 April 2018 - London School of Business and Finance (LSBF) in Singapore has received an award from the American Chamber of Commerce (AmCham) in recognition of its Corporate and Societal Excellence.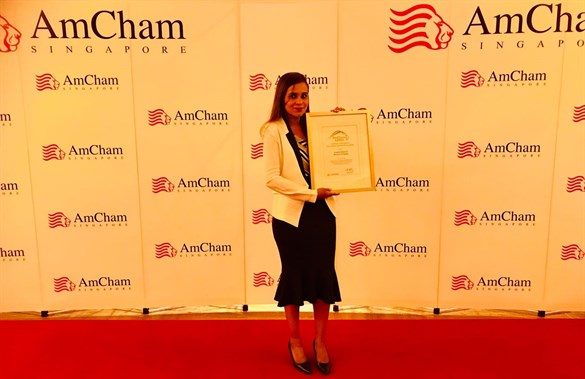 The AmCham CARES Award is given to organisations which demonstrate an excellent understanding of the linkages between business and society. The evaluation of companies is based on meeting certain criteria with their corporate programmes such as strategy, sustainability, measurability, and communication.
The Corporate Social Responsibility efforts and initiatives of LSBF were shared through a survey conducted by AmCham. LSBF programmes exceeded the given benchmarks, showing the ability to create long-term economic and social value.
Rathakrishnan Govind, Global CEO at LSBF, said: "LSBF in Singapore has been championing sustainability as an integral part of its business practice for several years. This accolade is a testament to our commitment to groom responsible global citizens of the future.
"The award encourages us to build and sustain further collaborations, developing dedicated relationships. We believe that engaging with the local community and contributing to society is important for any education provider as a way to help build a better future."
The award was presented on 19 April during the 45th AmCham Annual General Meeting attended by Zuleha Harun Rashid, Head of Student Services at LSBF in Singapore.
About LSBF in Singapore
Since its inception in 2011, London School of Business and Finance (LSBF) in Singapore has provided education to more than 10,000 students from over 20 countries, equipping them with the skills they need for a successful career.
With the support of LSBF in the UK and its royal patron, His Royal Highness Prince Michael of Kent GCVO, the school has partnered with several globally ranked universities and colleges across Asia.
It has two campuses in the heart of Singapore's business district, ensuring that students can benefit from the city's dynamic environment.
The school has also won several awards including:
·     Best Private School in Accountancy 2016
·     Best Private School in Hospitality & Tourism 2016
·     Asia Enterprise Brand Award 2016
LSBF in Singapore is committed to delivering the best educational experience possible for students.
---
View other sections in Press & Media