London School of Business and Finance in Singapore opens Belt and Road Multi-Cultural Studies Centre
Singapore, 21 July 2017 – The first Belt And Road Multi-Cultural Studies Centre in Singapore opened today. The Centre, a collaboration between the London School of Business and Finance (LSBF) in Singapore and Xiamen University's Overseas Education College (OEC), wasset upunder the auspices of China's Belt and Road (B&R) Initiative.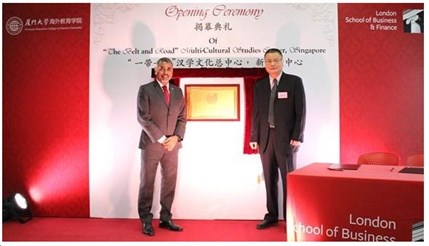 LSBF in Singapore is believed to be first private education institution in Singapore to secure a project related to the B&R Initiative.
The Belt And Road Multi-Cultural Studies Centre will offer transnational educational programmes, providing business executives and students a better understanding of China's Beltand Road Initiative, and invaluable insight and appreciation of Chinese cultural nuances, business etiquette and expectations. The first programme is expected to commence by January 2018.
Zheng Tong Tao, Dean of Xiamen University , OEC, said: "LSBF is one of the leading private education institutions (in Singapore) with an extensive global outreach. Their Chinese Bilingual School has a unique programme model grounded in sound theory and good practices associated with an enriched learning environment."
"We see great potential for LSBF in Singapore to facilitate the development of education under the B&R initiatives. They will push forward our shared vision of transnational education by providing holistic study experiences and cultural exchanges, " he added.
For Rathakrishnan Govind, CEO of LSBF Global, understanding the culture and cultural sensitiveness of doing business is essential to any B&R venture. He said: "The collaboration is based on this foundation. The partnership with Xiamen University and establishment of the B&R Multi-Cultural Centre in LSBF in Singapore is critical to our long term vision to provide relevant education to students and businesses who may be increasingly doing business in China."
Xiamen University, ranked among the top in China, is also working closely with the School to provide bilingual degree programmes and degree pathways in Singapore. These will commence in October 2017.
Since its inception in 2011, LSBF in Singapore has provided education to more than 10,000 students from over 20 countries, equipping them with the skills they need for a successful career. With the support of LSBF in the UK and its royal patron, His Royal Highness Prince Michael of Kent GCVO, the School has partnered with several globally ranked universities and colleges across Asia. It has two campuses in the heart of Singapore's business district, ensuring that students can benefit from the city's dynamic environment. The school has won several awards, including:
Best Private School in Accountancy 2016
Best Private School in Hospitality & Tourism 2016
Asia Enterprise Brand Award 2016
LSBF in Singapore is committed to delivering the best educational experience possible for students.
About Xiamen University
Tan Kah Kee, the well-known patriotic overseas Chinese leader, who was based in Singapore, founded Xiamen University in 1921. It was the first university in China founded by an overseas
Chinese. Over the past 90 years, Xiamen University has accumulated rich experience in offering its educational programmes and has presented its distinctive features in running the programmes. Equipped with a strong team of faculty and staff, Xiamen University, which provides a fairly complete range of programmes of education, has become a first-class comprehensive university in China with extensive international influence. The university is directly administered by the Chinese Ministry of Education and is highly rated nationally for subjects including journalism, chemistry and economics.
Media inquiries: Miko Chng
Head of Marketing, London School of Business and Finance DID: 6580 7350
Email: mchng.lsbf.edu.sg URL: www.lsbf.edu.sg
---
View other sections in Press & Media