LSBF Student Offers Programme launches in London with Fresher's Party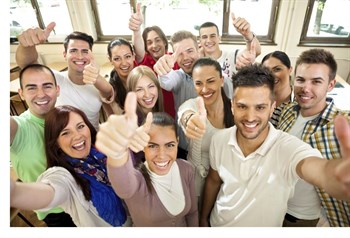 As part of the re-launch of the student benefits programme My Student Offers, dozens of students from several London School of Business and Finance (LSBF) courses got together for the 2015 Fresher's Party.
Organised by the LSBF student engagement team, the event took place at Kanaloa Club in central London, where students had the chance to not just network with their peers but also to win prizes and discounts from the society's partner brands such as Virgin Media, Fitness First and Chipotle.
Commenting on the event, Loyalty and Partnerships Manager Suzanne Molloy said: "The event was a resounding success, as it enabled students from different courses to engage with one another and learn more about the My Student Offers programme through interactive games and partner stalls."
Re-launched earlier this year, the My Student Offer programme connects students with preferred partners who provide them with discounts and additional benefits on products that are essential to their lives in London. Services cover a wide range of categories including entertainment, travel, electronics, fashion, and fitness.
"I believe it is extremely beneficial for all students to receive exciting and fresh offers from popular brands such as Fitness First and Virgin Media whilst they are studying, especially when living in a city like London where such services can sometimes be inaccessible to someone on a student budget," added Ms Molloy.
About The Student Society
The Student Society is run by students for students. The group works to enable students to fully enjoy their education and gain as much as they can from it.
The Society aims to represent, promote and protect the interests of all students, acting as their voice and getting their opinions heard. Additionally, it aims to support all aspects of student life, in order to create a productive, positive and well-rounded student experience. The Society represents students both locally and nationally, organising services, activities and events to meet students' needs.
---
View other sections in Press & Media