LSBF ACCA Lecturer Nominated for AIA's Accountant of the Year Award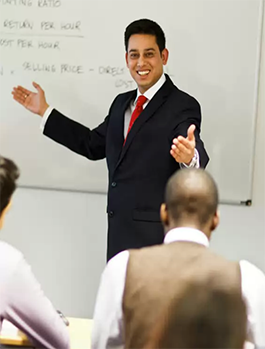 LSBF is proud to announce that ACCA lecturer Hafeez Qazi has been shortlisted by the Association of International Accountants (AIA) for their Accountant of the Year award. An experienced and fully qualified CIMA and AIA member, he is one of four nominees, selected from AIA's network of 8,500 accountants worldwide.
Hafeez has been a part of LSBF for almost nine years, teaching a wide range of financial subjects including ACCA, CIMA, and Postgraduate Certificates in Accounting & Finance. He has a vast amount of experience as both an academic and an accountant, with particular expertise in management accountancy across diverse industries like textiles and health-care.
The AIA is a global accountancy body which was founded in the UK in 1928, designed to encourage trust, clarity, and shared international standards in accounting. Many of its members hold key positions in a wide variety of organisations, including multinational corporations, SMEs, private practice, and the public sector.
Hafeez said: "I am absolutely thrilled with the nomination. To have been picked out of thousands of people is a real honour, especially from an organisation as prominent as this one. It would be amazing if people voted for me and I won it, but just to be on the shortlist is a great achievement."
The nomination adds to LSBF's long list of achievements. Over the years, the school and its faculty have won several industry awards, including the Queen's Awards for Enterprise 2013, the UK's highest and most prestigious business accolade. Earlier this year, LSBF won a Global Business Excellence Awards 2014 for Outstanding Educational Service.
The AIA Founders' Lecture and Awards ceremony will take place on 2 October 2014 in London. Nominations are open for public vote until 19 September 2014.
To find out more about visit LSBF's Accounting Faculty
---
View other sections in Press & Media