LSBF Triumphs with 2 Global Business Excellence Awards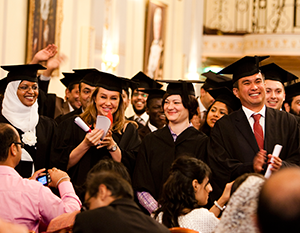 London School of Business and Finance (LSBF) is delighted to announce it is the winner of two Global Business Excellence Awards 2014. While LSBF won the prestigious accolade in the 'Outstanding Educational Service' category for its contribution to the higher education sector in the UK and internationally, Aaron Etingen, the school's Founder and Executive Chairman, won the 'Outstanding Executive' award for his leadership and visionary approach to the delivery of high quality education.
With campuses and offices worldwide, as well as a strong online presence, LSBF is proud of the role it plays in expanding access to global education and contributing to the continuous development of individuals and communities.
In the competitive 'Outstanding Educational Service' category, LSBF emerged triumphant thanks to a sustained international presence and solid delivery of industry-relevant educational services. With a powerful e-learning platform and programmes covering industries from fashion to finance, LSBF has seen exponential growth over the recent years, establishing campuses in the UK, Singapore and Canada, and regional offices around the world.
The global mindset adopted by LSBF is reflected in its operations as well as in the high levels of diversity and multiculturalism present in its classrooms. Across its UK and overseas campuses, and via a wide range of online education channels, LSBF teaches career-focused programmes to more than 35,000 students from over 150 countries.
"At LSBF we believe that globalisation brings unique opportunities to the higher education sector. Through a wide range of transnational initiatives we aim not simply to support our current students and help them achieve their goals but, most importantly, we focus on expanding access to world-class education to all corners of the globe. Being one of the Global Business Excellence Awards winners is recognition of the quality of our work and a reflection of the international growth and development that our school has worked towards in the last decade", commented Prof Maurits van Rooijen, Rector and Chief Executive at LSBF.
Congratulating Mr Etingen on his success, the GBE Chairman of the Judges said: "At the start of his career Aaron Etingen was confident he would be a successful business leader. I doubt he had any inkling just how successful he would be. Driven by a constant passion to innovate and his unstoppable drive, Aaron Etingen has transformed the landscape. Few entrepreneurs have ever achieved such success in such a short time. Aaron Etingen is definitely a business leader to watch! Many congratulations for such inspirational leadership."
Both accolades add to LSBF's long list of achievements. Over the years, the school and its faculty have won several industry awards, including the Queen's Awards for Enterprise 2013, the UK's highest and most prestigious business accolade
---
View other sections in Press & Media