LSBF Student Progression and Retention Rates Exceed Sector Average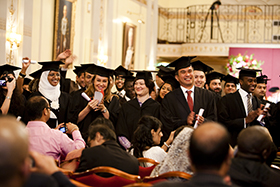 As a centre of education excellence, LSBF strives to provide students with first-class experience and academic development. Reflecting those efforts, the latest figures collated by the School's exams and assessment office show that postgraduate and undergraduate students' progression and retention rates at LSBF are higher than some of the national average public sector figures.
According to the data, across all undergraduate programmes, LSBF maintained a progression rate of 82%, with some courses such as the Bachelors in Business Management achieving up to 93% of progression. At postgraduate level, Masters programmes offered at LSBF have achieved an average progression rate of 80%, with the MSc Finance achieving between 94% to 100% progression.
"These figures are a demonstration of LSBF's dedication to student experience, academic and professional development. Since we opened our doors, we have focused on building a first-class academic team with some of the most experienced professionals, professors and researchers across several industries. We are extremely proud to present figures that are, in many cases, higher than the national average and we are confident that we will keep improving in the coming years", said Professor James Kirkbride, Vice-Rector at LSBF.
In addition to above-average progression figures, the school has also maintained solid retention levels at both undergraduate and postgraduate programmes. Latest data from the Higher Education Statistics Agency, which monitors the performance of UK public universities, shows that the national average continuing rate for business subjects is 85.1%. In comparison, some modules of the MBA programme offered at LSBF retained up to 91% of students, while courses such as MSc Finance, LLM Business Law and BSc Financial Management achieved 100% retention rate in 2013. The figures show that all postgraduate programmes offered at LSBF exceeded the average national retention rates.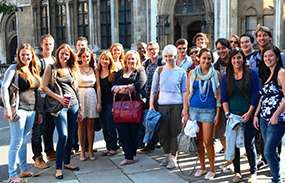 "This is a result of the hard work of our faculty and student support teams, who are fully focused in shaping the careers of the business leaders of tomorrow. Through a wealth of experience and achievement, our academic team cultivate an ethos in which students are encouraged and inspired to innovate and achieve more. We ensure this approach is present across our entire academic faculty and the benefits are reflected in our students' careers", added Sarah Rodgers, Academic Registrar at LSBF.
The excellence mindset adopted by LSBF is reflected on the school's operations as well as on the high levels of diversity and multiculturalism present at its classrooms. Across UK and overseas campuses and via a wide range of online education channels, LSBF teaches career-focused programmes to more than 40,000 students from over 150 countries.
With a diverse and inclusive approach to social responsibility, it is part of the LSBF's mission to help build skills not just for the benefit of individuals, but also for the communities where students, alumni and business partners live and work.
LSBF endeavours to teach skills and values for fostering a socially conscious business community. Many of its students come from developing countries, and are able to make real contributions to their local economies after returning home with international experience. LSBF believes in shaping not only the careers of business leaders, but we also help its students to become truly global citizens.
To find out more about LSBF's faculty and academic management, visit: /faculty
---
View other sections in Press & Media