LSBF to Host Career Workshops on Investment Banking and Corporate Communications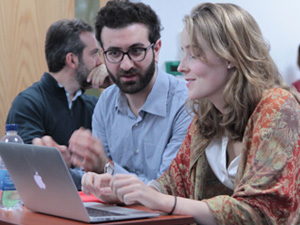 One of LSBF's missions is to shape global careers and assure that all students have a competitive advantage in the global marketplace. As a key element of the school's structure, LSBF's Careers & Employability department endeavours to help students on their future career and improve their employability through a wide range of professional development programmes.
Kicking off this spring term, the team will host two events with guest speakers from fast-growing industries. The first workshop will focus on the Investment Banking and Mergers and Acquisitions sector as career pathways and will be presented by guest speaker Guy Hayward-Cole, Managing Director EMEA Mergers & Acquisitions at Nomura International PLC.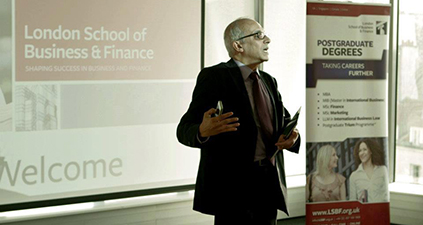 With over 25 years of experience in investment banking in the UK and internationally, Mr Hayward-Cole will give students an update on sector post the 2008 financial crisis and explain the details of a typical pathway for new entrants in the IB/M&A sectors. He will also share his views and vision for the sector in the next few years. The event will be hosted on 18 February at LSBF's London campus and is open to all students.
The second workshop will be targeted at those students interested in developing their careers in the marketing and public relations industries. Guest speaker Neil Stinchchombe, Director of Eskenzi PR, will share with students some of the experience he acquired over the last 20 years in the corporate communications industry. Mr Stinchcombe's main focus has been with technology start-ups, most recently with Imperva, the most successful IPO on NASDAQ in 2011. He also has held strategic and financial director roles at companies such as WPP, Tate & Lyle and Data Watch Inc.
At the event, which will be held on 13 March in London, he will cover how public relations fits into the marketing mix, why PR is one of the hottest career choices and how to get promotion and shine at the top.
"Passion and a strong industry understanding are essential elements for career success – and that's exactly what we try to pass on to our students. Our guests speakers tend to be professionals who have decades of experience and understand what it takes to be successful in their industries. Our events also give students the opportunity to network, not only with the speaker but with people who have similar interests", said Nadim Choudhury, Head of Careers & Employability at LSBF.
To learn more about LSBF's Careers and Employability Services and to keep up-to-date with upcoming workshops and speaker events, visit: www.lsbf.org.uk/careers
---
View other sections in Press & Media