LSBF Expands in Singapore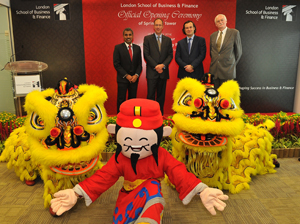 Singapore, 27 February 2014 - Building on its successful story of academic and professional training excellence, the London School of Business & Finance (LSBF) this week opened a new institute in Singapore. The expansion comes less than three years after the inauguration of LSBF's first site in Singapore, where the school has already taught over 6,000 students since 2011. Located at Springleaf Tower, in the heart of Singapore's Central Business District, the new institute will accommodate LSBF's fast growing student base and increase access to an expanding portfolio of high quality and affordable UK qualifications.
Having taught some of the top accountancy students in the world, LSBF in Singapore prides itself for its relatively short but already very successful operations, with plenty of achievements along the way. Most recently, the school was awarded with the Platinum Approved Learning Partner Status by the Association of Chartered Certified Accountants (ACCA) for its 2014 tuition. The award is the highest status granted to training providers by the ACCA.
The opening ceremony was attended by the British High Commissioner to Singapore Anthony John Phillipson, LSBF Founder and Executive Chairman Aaron Etingen, the school's Rector and CEO Professor Maurits van Rooijen, as well as LSBF in Singapore's Managing Director Rathakrishnan Govind.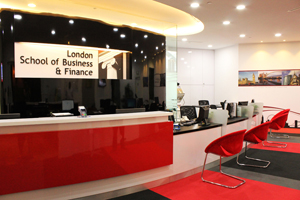 During his speech, Mr Phillipson shared details of the growth of UK Transnational Education (TNE), estimated at £17.5 billion, and how it has helped establish Singapore as a hotspot for education excellence in the region. "One of the eleven sectors at the heart of the British Government's Industrial Strategy, or Plan for Growth, is International Education Strategy. And Singapore has become a particular focus for this due to its high quality education partnerships and Singaporean's own sense of ambition", he said. Mr Phillipson also highlighted that Singapore is ranked 2nd in the world for UK Transnational Education.
Prof van Rooijen commented on the benefits of being placed in the financial district of Singapore: "By being here, we are reaching out to employers in Singapore, inviting them to work closely with us in our Work-integrated Learning and Learning-integrated Work commitments. This new venue will hopefully become a truly educational hub in a professional environment, the corporate living room as well as a study centre and in the future maybe even a clinic for Singapore's Central Business District where study and work meet to boost personal and corporate economic success", he said.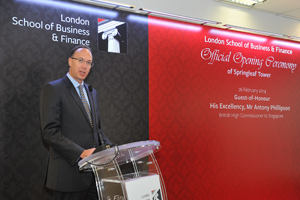 "The expansion of LSBF in Singapore reflects the vision of LSBF on the new realities of higher education. When it comes to professional higher education, we want to create a symbiotic relationship between theory and practice, between classroom and workplace, with experiential learning at the core of its curriculum", added Prof van Rooijen.
The new location will have 11 classrooms that can hold around 300 students at a time. Commenting on the school's growth in the last two years, Mr Govind said: "This grand opening is not just about moving from an old premise to a new institute. It is a reflection of our success and celebration of what it's to come for the growth of LSBF in Singapore and in the region. With this expansion, LSBF is committed to delivering the best of higher education from across the world and to become a professional education hub for students and adult learners in the business community."
For more information, visit http://www.lsbf.edu.sg/
If you'd like to see more pictures of our new location in Singapore, check our Facebook page.
---
View other sections in Press & Media