LSBF Hosts Trading & Financial Market Analysis Week in London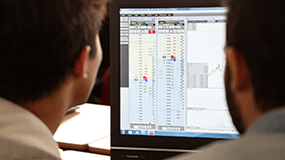 For five days, a classroom at LSBF's London City Campus has been converted into a fully-fledged trading floor as students in the GGSB MSc in Finance programme took part in the Trading & Financial Market Analysis week 2014, a practical experience in trading and risk management. The programme was delivered in partnership with Amplify Trading Ltd, in line with LSBF's ethos to provide practical and industry-relevant skills alongside academic economic understanding.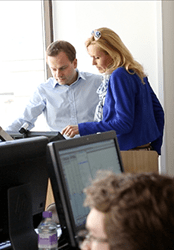 During the programme, each student had personal use of their own trading desk. As live audio feeds were delivered from Amplify trading floors, students were able to engage in discussions and analyses with leading industry professionals. Over the course of the programme, students went through several steps of development, including initial market analysis, classes in theory, experience-building, multi-asset class exposure and career development. They also gained practical knowledge in areas such as equities, foreign exchange, commodities, fixed income and multi-asset trading.
For the month leading up to the event, students received daily market analysis from leading investment banks and hedge funds so they could understand the fundamental drivers of contemporary financial markets and become accustomed to the terminology used. Each day started with key theory delivered by senior traders, after which students logged onto their trading platform to trade live market price, direct from global exchanges. As they progressed through the programme, students had a chance to develop their own trading style, reflecting on their personal skills and risk management experience.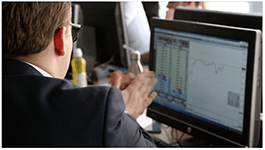 Roy Butcher, Academic Dean at LSBF, said: "Being able to apply a clear understanding of global macroeconomics is crucial for anyone aiming to pursue a career within the international financial markets. The training week was designed to enhance our students' competitive advantage in the financial sector and allow them to be fully prepared for any role within the industry. We are confident that students will gain maximum leverage from the experience on their CV."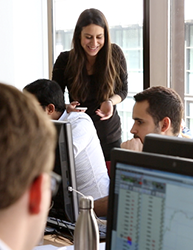 On the last day of the programme, students had their trading accounts reset to $100,000.00 as they traded across all asset classes in direct competition with each other, reflecting the pressures of managing risk within an uncertain environment. At the end, the top five traders were invited spend a full day on Amplify's trading floor in the City of London with all expenses paid.
Longstanding partnership
LSBF has a longstanding partnership with Grenoble Graduate School of Management which started in 2005 with the introduction of the GGSB MBA programme. GGSB is a triple-accredited institution, an honour shared by less than 1% of world's elite business schools. LSBF also offers GGSB's Masters in Finance which has been ranked 7th best worldwide by the Financial Times in 2013, and their Masters in International Business (MIB), ranked the 13th best worldwide by the same newspaper. September 2012 saw the launch of the GGSB MSc Fashion, Design & Luxury Management - and from September 2014, LSBF will be adding the GGSB MSc Marketing Management course to the portfolio.
For more information, click here.
---
View other sections in Press & Media