LSBF to host global conferences in Latin America with top industry leaders
As part of London School of Business and Finance's (LSBF) rolling programme of international networking and industry events, the educational leader is pleased to announce that this week it will be visiting Latin America to host conferences in São Paulo and Rio de Janeiro.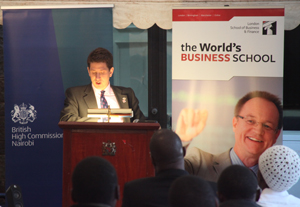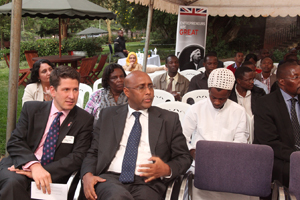 LSBF visited Kenya and several other African countries in June, as part of its rolling programme of networking events.
The high profile events follow LSBF's visit to Africa in June and will address key issues for Brazil's business and Olympic future. As Brazil are expected to be under a global spotlight for the 2014 World Cup and 2016 Olympic Games, key questions that will be addressed include: How can Brazil make the most of the tourism influx and economic attention? What skills should future talents and business leaders in Brazil possess, in order to play an important role in Brazil's Olympic future? What opportunities will the Olympics bring to Brazilian citizens?
The events will bring together key industry leaders, LSBF professionals, students and alumni, allowing for knowledge and experiences to be shared in one place. Students will therefore be able to gain valuable insights and industry connections through having access to Brazil's top business thinkers from across government, as well as managers and executives from business, finance and marketing industries.
LSBF Skills Summit São Paulo: Communicating Brazil on a Global Scale
The first Skills Summit will be held today, 24th of September at the prestigious Brazilian British Centre in São Paulo, in partnership with ESTABLISHBRAZIL and the British Council. Keynote speeches will be given by leading business professionals, as follows:
John Doddrell, Consul General of British Embassy Brazil;
Sandra Sinicco, CEO of Grupo Casa;
Stuart Duncan, Head of Lloyds Latin America;
Rubens Ricupero, Former Ambassador and Finance Minister of Brazil;
Rodolfo Ohl, Country Manager of Survey Monkey.
LSBF Skills Summit Rio: Your Role in Brazil's Olympic Future
The second Skills Summit will be held on Wednesday, 26th of September at the Caesar Park Hotel in Rio de Janeiro, in partnership with ESTABLISHBRAZIL. This event will also be attended by highly-experienced guest speakers, as follows:
Mauricio Torres, Anchor at TV Record and Olympic Games Correspondent;
Guilherme Doin, Partner at GDEC Law Firm;
Rodolfo Ohl, Country Manager of Survey Monkey;
Marcelo Pedroso, Director of International Markets at Embratur, the Brazilian Tourist board.
A Global Network to Benefit LSBF Students
With campuses and international offices across five continents and students from over 150 nationalities, LSBF works hard to help students develop networks with their peers, as well as corporate partners within their own countries. Therefore, the networking events, which will be attended by corporate guests, including journalists, business leaders, LSBF students and alumni, have been designed to equip LSBF students with the global business skills and networks that are pivotal to developing their careers internationally.
Regarding the events, LSBF's Vice Rector, James Kirkbride, said: "At LSBF, we value the importance of students being involved in networking activities as early as possible. With the current condition of the job market, schools need to give students the opportunity to broaden their professional network by meeting key figures in the business industry, and not only learn from them, but share their personal experience as future business experts. These networking events will give our students a competitive advantage when they progress into the working world, as they will have started developing relationships with important leaders from an early stage."
These summits are part of a series of international events which LSBF has been hosting since the beginning of the year. Countries visited in previous editions include France, Italy, India, Greece, and Kenya, with the next events scheduled to take place in Mexico and Colombia on the 9th and 11th of October respectively.
Both events in Brazil are free of charge and open to LSBF students, alumni and the public. To learn more and to confirm your attendance, visit the designated events pages for São Paulo and Rio de Janeiro.
---
View other sections in Press & Media