LSBF and Oracle Capital Group offer joint scholarship programme
As an institution which aims to provide educational opportunities for students all over the world, London School of Business & Finance has established a joint scholarship programme with Oracle Capital Group to support talented and promising students from the former USSR states. This year, the program will offer one fully funded scholarship covering 100% of relevant programme cost, and three partial sponsorships for 50% funding of the relevant programme cost.
Oracle Capital Group is the biggest multi-family office in UK, serving Eastern European clients, providing a range of services including corporate and fiduciary, investment advisory (through our offices in Switzerland and the Bahamas), wealth structuring and asset protection, as well as property development, management and relocation services.
The programme aims to help students acquire the fundamental knowledge necessary for their chosen career paths, and is open for applicants to the ACCA and MBA programmes at LSBF's London campus at the heart of the city's financial centre.
This is the second year the scholarships have been made available for young and aspiring future business leaders. Last year, four scholarships from the Oracle and LSBF partnership were awarded to students who are now studying at LSBF in the UK.
Any students wishing to apply for this opportunity should contact LSBF by 5th of July 2012. The scholarships will be awarded based on the applicants' demonstration of leadership potential, established career history and achievements, and track record of excellence.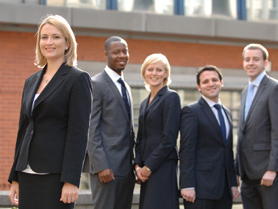 The names of the scholarship winners will be announced on the LSBF's Russian website: www.lsbf.ru, on the 18th of June 2011.
Roman Joukovski, member of advisory board of Oracle Capital Group noted: "We believe that only through active involvement in the lives of others a person can enrich his own life. For this reason, Oracle Capital Group provides, through Oracle Capital Charitable Foundation, active support to a number of organizations and charities, whose missions lie close to our hearts."
LSBF CEO, Aaron Etingen, explains: "Our partnership and joint scholarship programme with Oracle Capital Group is another effort that LSBF takes in order to provide access to global education. The LSBF offer is relevant academic and professional learning, combined with strong career development opportunities and we are proud of our intention to create further opportunities for students in such programmes worldwide."
Full conditions of the programme can be found at the promo-page of the programme on the www.lsbf.ru web site.
---
View other sections in Press & Media