New report shows LSBF's dynamic global community
As a global institution, London School of Business & Finance is proud to be the destination of choice for the best international scholars and the most promising future business leaders. Recent demographic reports, completed by LSBF's Careers Services, have highlighted the school's large international community and global presence.
According to the report, 37% of students who started last autumn their GGSB MBA programme, a programme designed by Grenoble Graduate School of Business (GGSB) and delivered by LSBF in its London campus, responded to be nationals from European countries. In other courses such as the GGSB Masters in International Business (MIB) the percentage of students coming from EU countries is even bigger, representing 70% of the programme's grand total, according to the report.
The energy of LSBF's diverse community is also shown by LSBF's University of Wales MBA and MSc Finance, which have a mix of international students of all continents.
This latest data shows that LSBF is the school of choice of international students from over 150 countries, creating not only a unique global learning experience, but also an essential networking environment its students.
LSBF's Vice-Rector James Kirkbride says: "As global educational providers, we at LSBF are very proud of our international presence and student community. With our campuses located across the three continents, including Europe, Asia and North America, we are able to provide a truly global experience for our students, giving them great networking opportunities."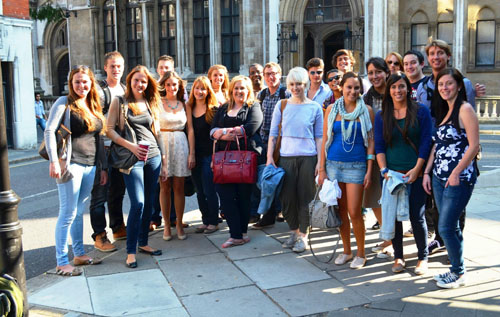 LSBF students during their induction week in September 2011
Student feedback
Studying International Business with LSBF since 2011, student Simon Hankammer says: "Being able to study in an institution such as LSBF is an exciting and enriching experience. Understanding different cultures, different markets and making international contacts are some of the most important things for someone who aims to work with international businesses."
Alawol Ahamed, the President of LSBF's Student Association, agrees with Simon and adds: "LSBF has a great cultural mix, through which everyone learns from each other. Even though we all come from different backgrounds, all students have similar goals, which can be summarized in the will to succeed in the business world."
---
View other sections in Press & Media