LSBF Students demonstrate artistic skills at LSBF's Got Talent
LSBF Student Association, in partnership with London School of Business in Finance, will be hosting a celebration of student talents on the 16th of February: the talent show "LSBF's Got Talent". The event, which comes only four months after the new Student Executive Committee was elected, is a combination of efforts from the Student Association and LSBF's Student Engagement Team.
Inspired by hit British TV show Britain's Got Talent, the event will be an opportunity for students to showcase their artistic talents to a live audience and to compete for the winning prize. The show will be held at Camden Centre and is open to LSBF students, staff and the public.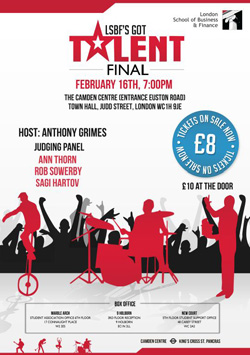 Members of LSBF faculty and staff are also participating as judges and hosts of the talent show. Award-winning musician and LCCA Director Sagi Hartov, alongside Dr Ann Thorne, Executive Dean, Gemmaine Walsh, Head of Communications, and Rob Sowerby, Director of Professional Training, will join host Anthony Grimes in judging performances before the audience votes for their favourite act at the end of the night.
"It's a great opportunity for our students to showcase their interests and talents beyond their academic ability. It is very important for students to enjoy every aspect of their life while they study with us at LSBF, and this talent show is just one of the ways help students make the most of their experience as a student", said judge Rob Sowerby.
President of LSBF's Student Association, Alawol Ahamed said: "After weeks of auditions we're down to the top 12 acts, ranging from singers and musicians to belly dancers. LSBF is proud to be a school with a large international student body, and this is a great way to celebrate the diverse talents and cultures of our students. The diversity of the acts is a great demonstration of the breadth of cultures and nationalities here at LSBF. Our students work hard academically all year round, so we want to be able to support them in projects such as this, where they can have fun too!."
But, as Executive Dean and judge Dr Ann Thorne points out – it's not all just about fun, "this is a great way for students to prepare themselves for important aspects of their professional lives. It is not easy to stand in front of your classmates and teachers and perform and present. Showcasing talents on a stage prepares you for public presentations, interviews and most importantly gives you confidence in yourself".
Since the event was announced, students have been lining up to take part. Over 30 students registered for the auditions which took place at LSBF's London campuses, where applicants had the chance to showcase their talents to the board of judges.
Valerie Groysman, Student Engagement Manager at LSBF, said: "It's very important for us to work alongside our Student Association and to enable them to develop projects that will engage with LSBF's entire student community. Even though the Student Executive Committee was elected only four months ago, they have been working very hard on planning and develop the next steps of the association. And we, as an institution committed to the full development of our students, are very proud to support them."
To learn more about the Student Association, visit:
http://bit.ly/wFXzJg
To learn about LSBF's Got Talent, visit:
http://on.fb.me/z3FTOQ
---
View other sections in Press & Media