LSBF Prep Centre for ACCA reaches 90,000 followers on Facebook
As an institution passionate about academic excellence and top quality tuition, London School of Business and Finance (LSBF) continuously develop new ways to support students both in and out of the classroom. To provide students with the very best ACCA preparation, in addition to academic support, LSBF has created the Facebook app, "LSBF Prep Centre for ACCA", a tool to help ACCA students through their exam preparation. The app provides free video lectures, notes, podcast exam tips, discussions and past paper analysis to all Facebook fans. The platform is so popular with ACCA students it has already reached the 90,000 followers milestone.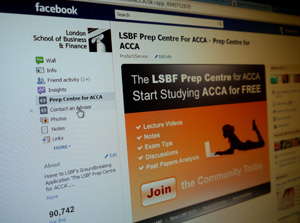 At the LSBF Prep Centre for ACCA, students have access to video lectures, exam tips and discussions about exams for free
The LSBF Prep Centre for ACCA page started as a support tool for LSBF students, but has grown exponentially during the past year and now offers free value information and exam support to any ACCA student worldwide. In the page, students can take part in weekly study plans, in which they can watch videos on specific papers, discuss exam questions, and take part in conversations about the main topics.
LSBF prep centre for ACCA Facebook page is in line with LSBF's ethos of providing and expanding access to first-class education worldwide. Rob Sowerby, Director of Professional Training at LSBF, says: "At LSBF we go further and aim to give students the best support. Our mission with LSBF Prep Centre is to become a reference point to anyone who studies and works in the accountancy market. The page has achieved many milestones in a very short period of time and we believe this success is due not only to the excellent content we provide, but also to the opportunity that students have of sharing knowledge and exam experience with each other." 
Learn more about our ACCA programmes
---
View other sections in Press & Media