LSBF Nominated for Accountancy College of the Year in the PQ Awards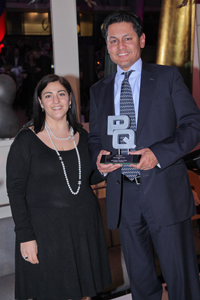 LSBF's ACCA tutor Francis Braganza won the PQ Magazine Awards in previous editions
London School of Business and Finance is proud to announce that its Professional Training School has been nominated for the Accountancy College of the Year and another four separate categories in the PQ Magazine Awards 2012. The event recognises the best institutions, teachers, materials, students and learning platforms in the accountancy market and will be held later this month (February 2012).
As an institution which is passionate about academic excellence and committed to preparing its students for today's international marketplace, LSBF works with corporate partners, top educational institutions and professional bodies to ensure that its study material, resources and tutors deliver the most up to date and relevant exam support.
LSBF has been nominated in the following categories:
Accountancy College of the Year: LSBF (London)
Study Resource of the Year: LSBF Books and LSBF InterActive
Lecturer of the Year: Lisa Kiddell (Manchester Campus)
Newly Qualified Professional of the Year: David Williams
Distance Learning Student of the Year: Cathal Fahey
Accountancy Personality of the Year: Peter Stewart
Lecturer of the Year: Neil Young (Birmingham)
LSBF's Vice-Rector James Kirkbride said: "Being nominated for the PQ Awards is not only a reason to be proud of, but also highlights our dedication and hard work to deliver the best support to our students. Our hard work has seen us win a PQ award previously, and we are confident that our structure, material and tutors have the potential to be awarded again this year."
"Recent results of our latest satisfaction survey showed that 75% of ACCA students from LSBF's London campus rated their tutors as excellent. These numbers reflect the degree of satisfaction that our students have with our courses and it reinforces the fact that our commitment to academic excellence and student support is the way forward", concluded Mr Kirkbride.
Learn more about LSBF's Professional programmes, visit: ACCA Courses
---
View other sections in Press & Media