LSBF Students and Staff Celebrate Success at the 2011 Autumn Graduation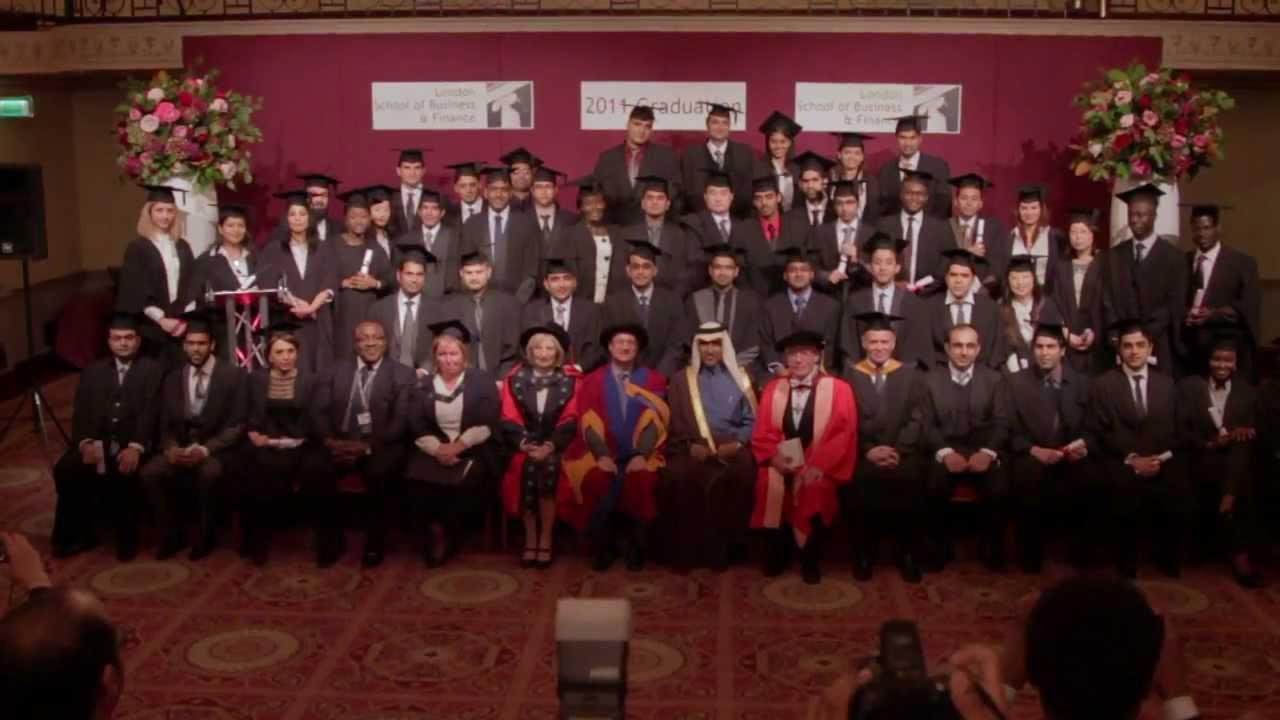 Students from LSBF's undergraduate and postgraduate programmes celebrated their academic achievements on Friday 28th October at LSBF Autumn graduation celebration. The ceremony was held at the prestigious Plaisterers' Hall, in Central London, and celebrated the programme completion by graduates from BIB, MBA, MIB, MSc Finance, and MSc Marketing.
The event was attended by LSBF academic faculty and members of senior management, who were honoured to have the presence of LSBF Royal Patron HRH Prince Michael of Kent as well as members of the Qatari Royal Family.
VIPS congratulate LSBF students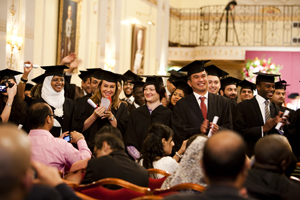 Delivering the keynote speech at the celebration, LSBF Royal Patron HRH Prince Michael of Kent said: "I am confident every student celebrating their graduation here today can now match their own personal drive with the knowledge and skills they need to thrive within their chosen fields. I am particularly proud to see so many students who have benefited from my own, Prince Michael of Kent Scholarship Awards, here today. Together, we continue to offer greater opportunities to ambitious individuals from emerging markets, and from many different walks of life."
Delivering the closing speech of the ceremony, Professor Alfred Morris, Chairman of the Board of Governance, congratulated students not just on success in completing their studies but also on choosing LSBF. He said: "London School of Business and Finance is not just another business school. It is distinctive in the emphasis it places on the world of the practitioner, the importance of the global networking, the appreciation of cultural diversity and a sense of ethical responsibility".

Dean of the Business School, Dr Ann Thorne congratulated students on their success and for becoming part of the LSBF alumni body: "Today marks the successful completion of your programme and the beginning of your future in your profession. In this room today are the future leaders, the future Chief Executive Officers, the future Ministers and entrepreneurs."
Student and academic team pride
Showing pride for their achievement, students from all courses enriched the atmosphere of celebration of the event. Graduate Shyam Kumar Sharma from the MBA programme said: "I'm very happy to being here today. Now having studied the course I feel very confident that I have the knowledge I need to succeed".
Roy Butcher, Head of the GGSB programmes at LSBF, stressed and congratulated students for their hard work and dedication during their time at the institution: "I am well aware of the hard work, concentration and commitment which have been required from you to achieve this ultimate goal. As an experienced disciple in the world of work I am well aware of the value of your achievement to your future career."
Ebenezer Shomefun, who completed her MBA programme at LSBF, said: "I have great hopes for the future and that what we have learned will help us succeed on our chosen paths".
James Kirkbride, LSBF's Vice-Rector stressed the position that LSBF has as an innovative school: "At the London School of Business and Finance, we are very proud to develop innovative, relevant, high-quality academic programmes. This provides opportunities for students and we are proud of our intention to create further opportunities for students in such programmes".
Champagne reception
Following the ceremony, graduates and guests were invited to attend a champagne reception, where they mixed with faculty and staff while treated to the sounds of international pianist Sam Leak.
---
View other sections in Press & Media