Summer Graduation 2011 - Celebrating LSBF Student Success
London School of Business & Finance (LSBF) held its summer 2011 graduation ceremony in the heart of the City of London, on Friday 15th July. Located in the historic surroundings of Plaisterer's Hall, the event celebrated LSBF's 2011 graduating students.
Postgraduate students who successfully completed their MBA and specialised Marketing and Finance Masters programmes, were among those celebrating their graduation, with students collecting their certificates from Vice Rector, Professor James Kirkbride.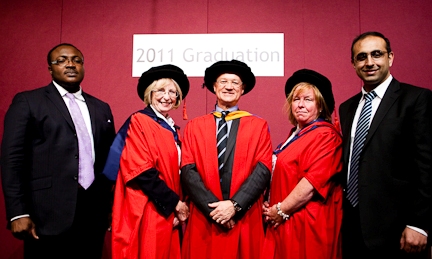 Following the ceremony, graduates and guests were invited to attend a champagne reception, where they mixed with faculty, staff and senior management. Guests were also treated to the sounds of international string ensemble, the Akko Soloists.
Graduating student, Dimple Lalwani said of the event: "My graduation ceremony was the best experience I've had at LSBF. It was a fabulous feeling to get my degree. The event surpassed all my expectations – I had to get members of my family to pinch me! It was a proud moment, not only for me, but to also see my classmates receive their Masters degrees as well. I'd like to thank LSBF who helped make my experience so special!"
MBA graduate, Nadia Bachan reflected: "The feeling of graduating and celebrating this achievement with the great friends I have made here as well as fellow classmates, staff and family, was overwhelming. The best part was taking that hat off and throwing it into the air, knowing that we are no longer students but individuals who can now add those prestigious letters in front of their names, Nadia Bachan, MBA."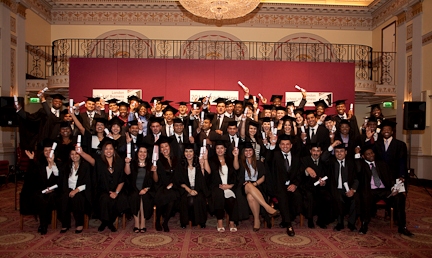 LSBF Vice Rector and award presenter, Professor James Kirkbride commented on the event: "We're all tremendously proud of our graduating students, who have worked so hard to secure their postgraduate degrees. Our academic and support staff have helped produce a very fine graduating class and we look forward to hearing more from the LSBF alumni and learning about their achievements."
"It's wonderful to share in the success of our LSBF graduates today. We are proud to be one of the most dynamic, innovative business schools in Europe and our successful students today represent this – achieving great success in their studies." said LSBF Head of Communications, Gemmaine Walsh.
LSBF's graduation ceremony marks the start of the school's bi-annual, rolling graduation programme and its commitment to celebrate and reward the successful achievements of its students.
---
View other sections in Press & Media