LSBF signs agreement with Colombian government to expand opportunities for students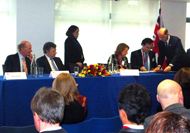 London School of Business and Finance, in another step to strengthen its position as a global provider for world class education, has signed a historic agreement with the Colombian NGO to promote accessibility to British education to the best Colombian scholars and the most promising future business leaders.
The agreement was signed at an education event hosted at the British Council, in London, where the President of Colombia Juan Manuel Santos met with UK Secretary of State for Universities and Science David Willets to discuss further opportunities for growth and collaboration between both nations.
Talking about the partnership, LSBF's founder and Chief Executive Officer Aaron Etingen said: "We are proud to having signed this agreement with the Colombian government. Providing access to education to all is one of the principles we regard the most at LSBF and this partnership will enable us to share knowledge and expertise for mutual benefit.
"We recognise the important role that education and innovation play in driving the growth and the economy of nations and we expect that this agreement will be very successful and will strengthen the existing educational and cultural links between Colombia and the UK."
To learn more about the scholarships offered by LSBF and how to apply, please contact Sonia Olaya on solaya@LSBF.org.uk.
---
View other sections in Press & Media