Global MBA
Develop advanced management skills and receive an international qualification with this modern programme with variety of industry specialisations. Equipped with the latest in management and leadership theory, techniques and practices in all aspects of business operations, you will be in demand with top employers around the world.
Our faculty benefits from global industry experience and will provide you with a solid foundation in holistic strategic business management. You will also gain the practical skills to apply your knowledge in the workplace, preparing you for rewarding senior management roles.
Qualification:
MBA Global
Duration:
Full-time 15 months (12 months on campus, 3 months online dissertation)
Part-time 24 months (12-24 months on campus, 3-6 months online dissertation)
Online 15-36 months (100% online with optional blended study on campus)
Start dates:
February, June, September
Campus available:
London, Birmingham, Manchester, Online
Fees:
Click for fees
UK undergraduate degree or equivalent – any subject area
English levels 5.5 IELTS (5.5 in all bands) or equivalent
Relevant work experience is an asset, but no work experience is required
Students who fail to meet academic requirements can be assessed on their relevant work experience (5 years management experience minimum for mature study route)
Learn more about:
This programme has been designed by London School of Business & Finance (LSBF) and is validated and awarded by the International Telematic University UNINETTUNO.
Managers and potential managers of all levels will benefit from this MBA programme. Develop existing skills and acquire new ones, combining them with cutting-edge theoretical knowledge to give you a real advantage in a competitive jobs market.
This programme will give you a broad and far-reaching grasp of the most important concepts in management, strategy, finance, and marketing with an international perspective. Specialisations allow you to synchronise your business degree to your existing career path, giving you a finely tuned, unique business qualification. You can find out more about the specialisations available and the programme structure.
You will develop invaluable research and analytical skills, as well as the ability to strategise. Upon graduation, you will be ready for a rewarding career in one of the various sectors in international business. Find out more information on the industry and your career prospects.
This MBA programme is taught by a passionate and vastly experienced faculty with diverse backgrounds, in a stimulating and enriching environment. You will learn by using comprehensive academic literature, real-life case studies and your fellow students' business and managerial experiences.
Students on this programme come from all over the world, from a wide range of backgrounds. As a result, you will share a rich variety of experiences and learn much about other cultures.
The average age of previous MBA Students is 27.7 years, with 51% of these students being male and 41% female.
The age range is 20 -47, while the average years of work experience is 3.4 (although no work experience is required)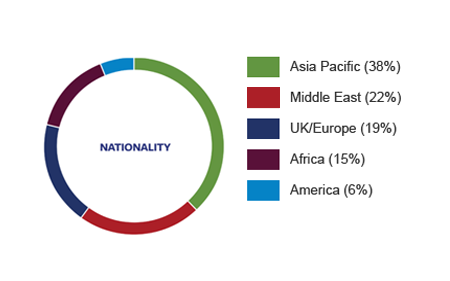 From 917 MBA students (campus and online)
Campus intakes: Sep 2010, Jan 2011, Apr 2011
Online intakes: Apr 2011, Jul 2011, Sep 2011, Jan 2012