MA in Strategic Marketing
Develop the advanced knowledge and skills you need to implement, manage and evaluate marketing strategies in today's globally connected yet volatile economy.
As a discipline, marketing has experienced a steep learning curve in the face of recent economic shifts. This means the in-depth market research, data analysis, strategic planning and management skills of this Master's degree have never been more vital to delivering business success.
Qualification:
MA in Strategic Marketing
Duration:
Full-time 15 months (12 months on campus, 3 months online dissertation)
Online 15-36 months (100% online with optional blended study on campus)
Start dates:
February, June, September
Campus available:
London, Manchester, Birmingham, Online
Fees:
Click for fees
UK undergraduate degree (any class) or equivalent – any subject areas
English Levels 5.5 IELTS (5.5 in all bands)
No working experience is required, but it is considered an advantage
Students who fail to meet academic requirements can be assessed on their relevant work experience (5 years management experience minimum for mature study route)
Learn more about:
This MA in Strategic Marketing programme has been designed by London School of Business & Finance (LSBF) and is validated and awarded by the International Telematic University UNINETTUNO.
This course has been designed for marketing professionals who wish to develop their strategic awareness within both a national and international context. It is also ideal for marketing graduates who wish to begin their careers at a far higher level, or for professionals coming from different industry sectors but with a strong interest in marketing.
No matter from which direction you approach it, our MA in Strategic Marketing programme is a fast-track to a wealth of career opportunities. It provides the knowledge and skills you need to move directly into outstanding roles, organisations and entrepreneurial ventures.
This programme places emphasis on creating and retaining customer engagement at a leadership level. This includes the core modules: Strategic Marketing Management, Consumer Behaviour and Research, and Integrated Marketing Communications.
LSBF lecturers bring years of industry experience straight to the classroom, and content will be delivered through lectures, seminars, guided self-study, and analysis of case studies. We also use workshops and group projects to ensure you are exposed to the complexities of real-world business problems. This will culminate in the completion your dissertation, which focuses on an area of your choosing.
This programme is available to study online via our distance learning platform, InterActive.
Students on this programme come from all over the world, and from a wide range of backgrounds. As a result, you will share a rich variety of experiences and learn much about other cultures.
The average age of previous MA in Strategic Marketing students is 26.6 years, with 66% of these students being female and 34% male.
The age range is 22-40, while the average years of work experience is 3.37 years (although no work experience required)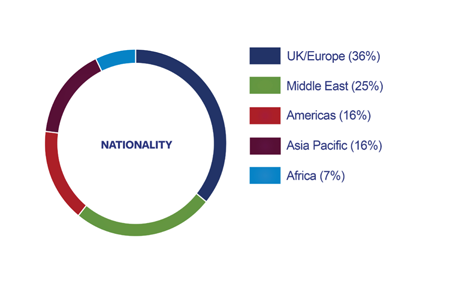 From 204 MA in Strategic Marketing students (campus and online)
Campus intakes: Sep 2010, Jan 2011, Apr 2011
Online intakes: Apr 2011, Jul 2011, Sep 2011, Jan 2012