Postgraduate 360° Programme:
Your Path to career Success
LSBF has created a clear and direct educational pathway that will lead students to the achievement of their career goals. Using our significant experience of guiding students to career success, we developed a comprehensive postgraduate programme, which guarantees* students a Job offer following graduation.
The Postgraduate 360° Programme is built of three pillars which are necessary for career success: theoretical knowledge, combined with practical and soft skills. Theoretical knowledge and analytical skills are granted by a postgraduate degree, which can be supplemented with the specific professional competencies and technical skills provided by a professional qualification. While studying towards your degree and professional qualification, you will also benefit from the in-depth career preparation offered by LSBF's unique Executive Development Programme, enabling you to acquire soft skills and accomplish your career plans.
While studying for a globally recognised degree and a professional qualification, alongside students of over 150 nationalities, you will work closely with the LSBF Careers Department. You will benefit from expert advice and support, as well as access to LSBF's network of over many international partners and clients.
Unlike any other educational programme, this career-focused programme at LSBF includes:
Part 1: A highly regarded postgraduate degree: equipping you with core skills and theory to give you a solid understanding of business concepts and practice
Part 2: A globally recognised professional qualification (ACCA, CIMA, CIM, CFA®): supplying you with the vital practical and technical skills you need to carry out day-to-day business functions
Part 3: LSBF's Executive Development Programme: designed to polish your existing skills and enhance your soft skills, leaving you fully prepared for career success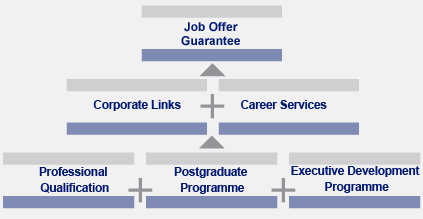 As part of the Postgraduate 360° Programme, you will benefit from the guidance of a dedicated and experienced LSBF recruitment consultant from day one. We will help you to choose the right combination of degree and professional course, based upon your interests, your existing knowledge and the field you aspire to work and progress in. We recognise that different industries and fields require different knowledge and skills, so the soft skills you acquire on this programme will reflect the requirements of your chosen industry. The industry you aspire to work in will determine your choice of pathway:
Pathways
The duration of the Postgraduate 360° Programme will be the same as that of your selected postgraduate degree.
Why study on this comprehensive programme?
Gain a real edge in a competitive jobs market
Obtain a highly regarded postgraduate degrees
Obtain a globally recognised professional qualifications
Individually tailored careers support
Includes a Job Offer Guarantee*
Network with students of over 150 nationalities
Global career opportunities, with LSBF's network of global corporate partners and clients
Who is this programme designed for?
Motivated and driven individuals who are ready to invest in their future
Those interested in gaining a professional designation in addition to a traditional degree
Academic high achievers, who are ready to experience a heavy course load
Those who are career focused and see their postgraduate studies as a platform to career success
Applicable to all of our Postgraduate Programmes
The duration of the Postgraduate 360° Programme will be the same as that of your selected postgraduate degree
Offered only in our London Campus.
Enquire now and begin your journey to career success today
Important Information, Terms & Conditions
*Terms and conditions apply. Some students may not qualify for the job offer guarantee scheme. The job offer guarantee is solely provided by London School of Business and Finance (LSBF), and has no connection with any other academic partner. Please note that the offer guarantee does not assure a particular role, employer, salary or location.
The offer will be in the area studied by the student but there is no guarantee that it will be in the UK. Therefore, the job offer can be in either the UK or overseas, depending on visa restrictions
This page is under construction
Visit our website to find out more about our courses
www.lsbf.org.uk