MA in Finance and Investment
The MA in Finance and Investment programme is aimed at not only producing high quality candidates, but also at producing high quality finance researchers. The course builds a solid foundation in the theory and practice of financial decision making. You will gain the advanced management and analytical skills needed to take you to the forefront of the financial world.
In the ever-changing field of finance and investment, understanding its key areas at a national and global level is critically important. This includes financial markets and the financial systems of both developed and emerging economies. Developed alongside international organisations, this degree ensures you have the knowledge you need – and can apply it within today's business operations.
Qualification:
MA in Finance and Investment
Duration:
Full-time 15 months (12 months on campus, 3 months online dissertation)
Online 15-36 months (100% online with optional blended study on campus)
Start dates:
February, June, September
Campus available:
London, Manchester, Birmingham, Online
Fees:
Click for fees
UK undergraduate degree or equivalent – any subject area
English Levels 5.5 IELTS (5.5.in all bands) – or equivalent
No work experience required, but is considered an asset
Students who fail to meet academic requirements can be assessed on their relevant work experience (5 years management experience minimum for mature study route)
Learn more about:
The MA in Finance and Investment programme has been designed by London School of Business & Finance (LSBF) and is validated and awarded by the International Telematic University UNINETTUNO.
This Master's programme is ideal for finance professionals, graduates and those with business experience who wish to take their careers to major international companies. It will equip you with the critical skills you need to perform the strategic tasks required in high-level finance and investment positions.
Regardless of where your interests lie within the field, our MA in Finance and Investment is your ideal stepping-stone to a range of rewarding career opportunities. Upon completion, you will be fully equipped to take your career to the next level.
Our wide range of core and specialist modules will leave you able to act autonomously in planning and implementing global financial strategies. These include Business and Financial Analysis, Quantitative Finance and Financial Markets, as well as Corporate Finance.
The programme also incorporates a number of pathways – Accounting and Financial Management, Investment Banking and Capital Markets, as well as Retail Banking and Money Markets, among others. This means you can tailor the programme structure according to your career goals.
You will participate in lively debates and business related case studies. These take place during lectures and seminars led by our engaging, industry-experienced lecturers. You will also benefit from comprehensive materials, presentations, interactive activities and workshop sessions.
This programme is available to study online via our distance learning platform, InterActive.
Study in a classroom that brings the world to you. Our student community consists of ambitious people from all corners of the globe, allowing you to gain a truly international learning experience.
The average age of previous MA in Finance students is 28.0 years, with 68% of these students being male and 32% female.
The age range of previous students is 22-43. while the average years of work experience amounts to 2.5 years (although, please note, that no work experience is required to enter this programme).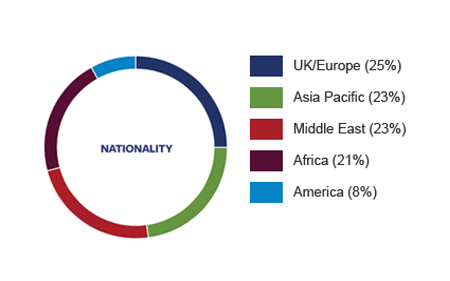 From 278 MA in Finance students (campus and online)
Campus intakes: Sep 2010, Jan 2011, Apr 2011
Online intakes: Apr 2011, Jul 2011, Sep 2011, Jan 2012
Prove your financial expertise with a free Bloomberg Assessment Test
Impress top employers – take a free Bloomberg Assessment Test (BAT) with us. It will demonstrate your aptitude, financial knowledge and career skills, and also allows companies to get in touch if they're interested in you. The BAT comes at no extra cost when you enrol onto any finance-related programme.