GGSB MSc in Finance
The GGSB MSc in Finance builds a strong foundation in the theory and practice of making financial decisions in an international environment, so it's ideal for students aiming to work at a senior level in banking, financial services and corporate finance. The programme is designed and awarded by the Grenoble Graduate School of Business (GGSB) and is delivered in partnership with LSBF.
Qualification:
MSc in Finance
Duration:
Full-time (24 months):

12 months on campus
12 months international study and/or work placement

Start dates:
September
Campus available:
London
Fees:
Click for fees
Strong undergraduate degree from a recognised university
English Proficiency: *

IELTS – 6.5 (6.0 in each component)
PTE – 63 (51 minimum in each component)

GMAT is not an obligatory requirement, but is considered an advantage and may be required for some applications. (Target score 550)
Learn more about:
Grenoble Graduate School of Business (GGSB)
Successful applicants will study towards a GGSB MSc in Finance from the triple-accredited institution, Grenoble Graduate School of Business. Triple accreditation is an honour shared by less than 1% of the world's elite business schools.
AMBA (Association of MBAs) – UK accreditation body
EQUIS (European Quality Improvement System) – EU accreditation body
AACSB (Association to Advance Collegiate Schools of Business) – USA accreditation body
Who is the GGSB MSc in Finance for?
Students who apply for the GGSB MSc in Finance aspire to boost their existing careers in the financial sector, in such areas as investment and commercial banking, asset management, financial services and consulting, or with corporate finance positions within international organisations.
A high level of commitment is required from applicants as this programme is only offered on a full-time basis. Students are required to commit to full-time studies in London during their first year but are given the option to gain work experience or work remotely during their second year, which is dedicated to the dissertation.
The GGSB MSc in Finance has three compulsory core modules evaluated by assignment or examination. These are followed by a Capstone Course to prepare you for the Final Master's Project, the Professional Dissertation.
Once you've completed your core modules you'll research and conduct your final master's project, based on a real-world situation. You'll have up to a year to complete your project which may be submitted from anywhere in the world, using LSBF and GGSB's Moodle internet-based learning platform. Your final professional dissertation can be completed in parallel with a job or internship, allowing additional flexibility for students.
To give yourself a truly competitive advantage you can combine the GGSB MSc in Finance with a professional qualification such as ACCA, CIMA or CFA® as a Dual programme. You can also give your degree an international perspective by adding the Global Management Certificate.
You can find out more about the programme available by visiting the programme structure page.
Prove your financial expertise with a free Bloomberg Assessment Test
Impress top employers – take a free Bloomberg Assessment Test (BAT) with us. It will demonstrate your aptitude, financial knowledge and career skills, and also allows companies to get in touch if they're interested in you. The BAT comes at no extra cost when you enrol onto any finance-related programme.
Class Profile
The GGSB MSc in Finance welcomes future business leaders from around the world, providing a global experience from the moment you arrive. The average age of the 2013 class was 23.6 years old.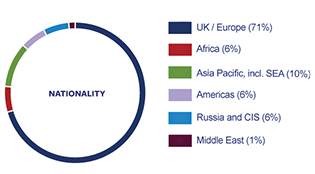 From 68 GGSB MSc students (Oct 2013 London intakes)