CFA® Online Programme
Learn from world-class CFA® lecturers anytime, anywhere through our award-winning online platform (powered by InterActive). HD recorded video lectures and our Global Live Classroom make everywhere your classroom, and make course materials available at the click of a mouse.
These CFA® online materials include comprehensive lecture notes, mock exams, progress tests, practice questions, online revision sessions, dedicated CFA® forums and 24/7 access to study materials. We give you all the tools you need to get qualified and make a real impact in the world of finance.
We offer different online CFA® packages to cater for individuals' different needs, including preparation for level 2 CFA® exams.
CFA®: The Essentials
HD quality video lectures and detailed lecture notes, as well as online tutor support, provide first-rate preparation for your CFA® exams. You can network with thousands of other students online and benefit from our re-sit promotion. Buy now.
CFA®: Tuition
Join our Global Live Classroom to learn and revise with your peers in real-time. This complete online CFA® package also offers recorded lectures, backed by in-depth lecture notes, our student network, online support and mock tests. Buy now.
CFA®: Question Bank
Gain access to over 2,000 exam-standard questions, along with detailed explanations on how to answer each, so you know what to expect on the big day. Buy now.
Progress tests and mock exams will chart your development and highlight areas you need to focus on. You can then use online tutor support and our student network to refine your understanding of the subject matter. Buy now.
However you choose to study CFA® qualification online with us, our online learning platform has the features to bring you exam success.
Want to speak to a programme advisor?
Our programme advisors offer one-to-one advice at our open days and on weekdays from 9am until 6pm. We are happy to meet you during these times at our campus in Holborn. Alternatively, you can call us on 0207 823 2303, or send us your details using the form on the right.
We also offer CFA® courses on campus – on a full-time and part-time basis.
Minimum entry requirements
Bachelor's (or equivalent) degree, or
Final year of your Bachelor's degree programme, or
Four years of qualified, professional work experience, or
Combination of work and college experience that totals at least four years*
Be prepared to take the exams in English
Valid international passport
*Summer, part-time, and internship positions do not qualify as work experience.
Next Intakes
August 2014
February 2015
Duration
Full-time: 3 months
Part-time: 3 months
Online: Available 9 months prior to the exam
Campuses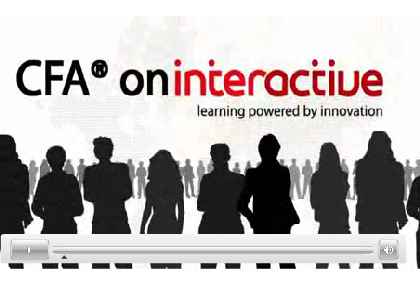 CFA® Institute does not endorse, promote or guarantee the accuracy or quality of the products or services offered by LSBF. CFA® Institute, CFA® and Chartered Financial Analyst® are trademarks owned by CFA® Institute.