Our Royal Patron - HRH Prince Michael of Kent GCVO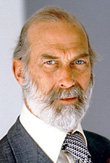 As patron of the London School of Business and Finance, His Royal Highness Prince Michael of Kent GCVO is committed to encouraging the next generation of entrepreneurs.
As LSBF Chief Executive Aaron Etingen commented "Prince Michael has generously agreed to introduce a special scholarship scheme to encourage the most promising students from emerging markets to study for a master's degree in London."
HRH Prince Michael of Kent delivers keynote speech at the LSBF Autumn Graduation
Delivering the keynote speech at the celebration, LSBF Royal Patron HRH Prince Michael of Kent said: "I am confident every student celebrating their graduation here today can now match their own personal drive with the knowledge and skills they need to thrive within their chosen fields.
I am particularly proud to see so many students who have benefited from my own Prince Michael of Kent Scholarship Awards, here today. Together, we continue to offer greater opportunities to ambitious individuals from emerging markets, and from many different walks of life." READ MORE
HRH Prince Michael of Kent Officially Opening the Marble Arch Campus