CIMA + MBA
The MBA programme is a comprehensive, industry–relevant degree designed to take your career progression to the next level. You can now take advantage of the synergies a dual programme can offer you.
LSBF offers CIMA students the opportunity to continue their study and take their qualification to a Masters Level with an MBA. This programme has been devised to give students the practical and analytical tools they need to succeed in senior executive roles. The programme is also the perfect springboard for those wishing to continue their research at doctoral level.
The MBA is a well-recognised programme with a strong reputation around the world. It provides accounting professionals with strong leadership capabilities and a strong holistic understanding of organisational practices.
Combine your CIMA with an MBA in as few as 3 extra modules and a dissertation*
Increase your salary up to 21%† when you combine your CIMA qualification with an MBA.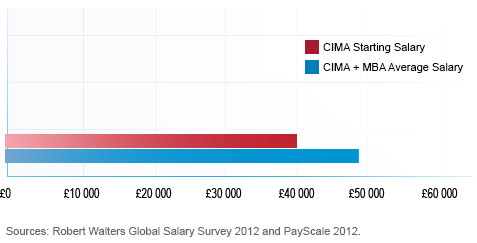 Minimum entry requirements
Must be 18 or over
Proficiency in English and Mathematics is highly advisable
Holders of a relevant degree or professional qualification may qualify for exemptions*
*We advise you to check your starting point with CIMA before you enrol on the course.
Next start date: January 2016*
Campus: London
Duration: 9-10 weeks per level
*This course is planned to run in January. However, it is subject to student demand. Our CIMA Full-time course is only available for LSBF CIMA continuing students and EU/UK residents. For more information, speak to one of our advisors on: +44 (0) 20 7823 2303.
Important Information, Terms & Conditions
†Salary calculations based on starting salary of a CIMA qualified accountant at £40,000 compared to the average salary of a CIMA qualified accountant with an MBA based at £48,654. Sources: Robert Walters Global Salary Survey 2012 and PayScale 2012.
§To complete the MBA/MA course students must pass all CIMA papers. Students may be admitted onto the MBA/MA course prior to passing their strategic Case Study examination. SUBSEQUENT TO COMMENCING THE MBA/MA COURSE, SHOULD A STUDENT DISCOVER THAT S/HE HAS FAILED ANY CIMA PAPERS, S/HE WILL NOT BE ENTITLED TO A REFUND OF ANY AMOUNT PAID. FOR THE AVOIDANCE OF DOUBT, FAILURE OF ANY CIMA PAPERS WILL NOT ENTITLE THE STUDENT TO A REFUND OF ANY AMOUNT. The awarding body for the MBA/MA course will be one of LSBF's partner universities; however, awarding bodies are subject to change from time to time. The School's obligations shall be discharged by providing tuition leading to a recognised MBA/MA award by a recognised awarding body. The School reserves the right to change the awarding body, and will notify the student as soon as reasonably practicable. In light of this, the student agrees that they shall have no claim based on changes to the awarding bodies. The School reserves the right to offer the MBA/MA portion of the dual programme either online or on campus (depending on availability). For the avoidance of doubt, the decision concerning such availability (whether online or on campus) shall be at the sole discretion of the School. Oracle Capital Group sponsorship programme for the masters' course fees covers the tuition fees only and does not include incidentals such as textbooks and exam entry/assessment fees (£158 per module), dissertation mentoring fees (£250), dissertation submission fees (£250) and final academic board presentation fees (£150), and fees for exemptions and deferrals. Students are responsible for payment of such fees which are mandatory for enrolment and progression on the masters' course.
*This applies to the MBA Global (Financial Management) course only. This programme is only applicable to UK/EU nationals or applicants with the right to work and live in the UK.
 For further information please see full Terms & Conditions