GGSB MSc Finance – Career Direction
This GGSB MSc Finance degree is ideal if you wish to work at the highest level in banking, financial services and corporate finance. The programme builds a strong foundation in the theory and practice of making financial decisions in an international environment, equipping you with the necessary skills to pursue job titles such as: Financial Advisors, Financial Auditors, and Financial controllers among others.
Salary after graduation
At the time of the survey, 68% of the MSc students were employed less than 2 months after graduation. As the majority of international graduates are working across the globe, salary levels should be compared to regional buying power. However, 57% of MSc students are earning an annual salary of over €42,000.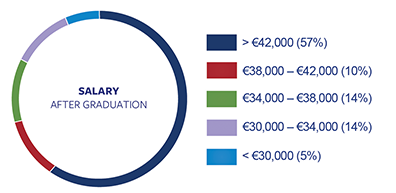 Survey of 2013 GGSB MSc Finance graduates.
Typical Career Opportunities
Here you can find a list of some of the GGSB MSc Finance Graduate Job Titles:
Commodity Markets Manager
Corporate Banking Manager
Debt Capital Markets Analyst
Financial Advisor
Financial Analyst
Financial Auditor

Financial Controller
Financial Markets Manager
Hedge Fund Analyst
Internal Auditor
Investment Banking Manager
Portfolio Manager
Sales Manager in Asset Management
And a list of GGSB MSc in Finance Graduates' current employers:
Airbus
ASML
Banque de France
BNP Paribas
Cadbury
Deloitte
Goldman Sachs

JP Morgan
KPMG
Schneider Electric
Société Générale
Thyssenkrupp
Tyco Electronics
Turkish Economy Bank
You will significantly widen your professional network using the expertise of a Career Support team from two of the best European schools. LSBF has its own Careers Service as well as an extensive network of corporate and academic partners.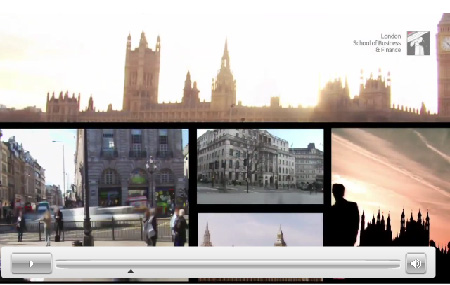 Develop specialist business knowledge and practical experience, giving you a competitive advantage in both your final year, and your future career.
Strong undergraduate degree from a recognised university (assessed by GGSB admission board)
English Proficiency

TOEFL – IBT: 94 (minimum of 22 in each band), computer-based: 240, paper-based: 587
IELTS – 6.5 (minimum of 6.0 in all areas)
Cambridge Proficiency Exam: A, B, C
Pearson Test of English (PTE) – minimum of 63
A test of quantitative abilities is required. You may submit one of the following scores:
GMAT - A minimum of 70% in the quantitative section is required (GMAT institution code 0365).
GRE - A minimum of 60% in the verbal reasoning section, 70% in the quantitative section, and 4.0 or above on the analytical writing section are required
CFA Level 1 exam with a pass grade
Study Modes:
Fees
Click here for the latest fees.
Click here for Bursaries and Scholarships
Application
To apply for this programme or for further information -
Call: + 44 (0)207 823 2303.