MIB – Career Direction
Students applying for the MIB (Master in International Business) programme will seek to increase their knowledge and improve their managerial and analytical skills within the international business arena. The programme integrates all key management concepts and uses multiple approaches to familiarise students with the knowledge required to gain employment in numerous sectors in international organisations and environments.
Salary after graduation
At the time of the survey, 87% of the MIB class intending to work after their degree had found a job, of which 51.4% had a contract before graduation. As 81% of graduates are working across the globe, salary level should be compared to regional buying power. However, 53.3% of MIB students are earning an annual salary of over £33,000.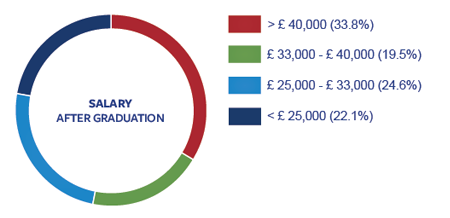 65.2% of the 2010 GGSB students provided employment information
Exceptional Networking Opportunities
The MIB (Master in International Business) programme offers excellent opportunities for networking and provides access to career support from both LSBF and the Grenoble Graduate School of Business. LSBF maintains an exceptional career development team on-campus offering services such as weekly job vacancies, internship opportunities, and interview preparation. These opportunities are acquired through an extensive network of corporate partners worldwide, all of which have hired LSBF graduates.
Some examples of organisations currently employing MIB (Master in International Business) graduates include:
Accenture
Lucent
HSBC
Procter & Gamble
Price Waterhouse Coopers
Britannic Assurance

Hewlett-Packard
Eurosport
Microsoft
McKinsey
Cap Gemini Ernst & Young
Shanghai Bank

Coca Cola
Unilever
First Direct
Glaxo Wellcome
AC Nielsen
Pfizer
Job Titles — Marketing Director, Global Director, International Manager.
Typical career opportunities
The MIB (Master in International Business) programme is a two-year course run in partnership with Grenoble Graduate School of Business (GGSB). GGSB is one of Europe's most prestigious business schools, triple accredited by AMBA , EQUIS and AACSB and ranked by the Economist and Business Week.
The programme offers students the chance to kick-start their business careers straight after undergraduate studies. The programme focuses on the knowledge required by managers in different sectors to work in international companies and environments.
The faculty delivering the MIB (Master in International Business) programme brings together a wealth of experience in business from both academic and practical standpoints, with practical expertise from the highest levels in leading blue chip organisations.
An MIB (Master in International Business) will take you to the next step of your professional, personal and academic development, and help to push your career in the right direction. You also have the unique opportunity to combine your postgraduate study with a professional qualification on one of LSBF's ground-breaking Dual Programmes. Whether you're a domestic or international student, LSBF is ideally situated to provide an exceptional educational experience. Work and study in the heart of London and experience the UK's most vibrant cultural, financial and business centre.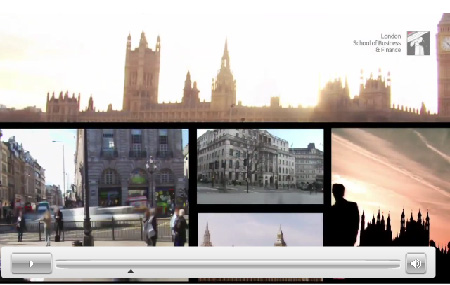 Develop specialist business knowledge and practical experience, giving you a competitive advantage in both your final year, and your future career.
Opportunity to devote up to 1 year to company-based learning, either in the form of a work placement or a full-time paid internship.
Undergraduate degree (2:2 minimum) or equivalent
English Proficiency: *

IELTS 6.5 – With at least 6.0 in all areas (or equivalent)
TOEFL – minimum score of 94 (internet-based), 240 (computer-based), or 587 (paper-based)

GMAT is not an obligatory requirement, but is considered an advantage and may be required for some applications. (Target score 550)
Start Date
Campuses available
Duration
Study Modes:
Ranking
The MIB from GGSB is ranked 13th worldwide in the 2012 Financial Times Masters in Management global ranking.
Fees
Click here for the latest fees.
Click here for Bursaries and Scholarships
Application
To apply for this programme or for further information -
Call: + 44 (0)207 823 2303.