GGSB MBA
The GGSB MBA programme is a prestigious business qualification delivered in partnership with Grenoble Graduate School of Business (GGSB) – one of the most highly regarded business schools in the world. The programme offers a unique opportunity to study a top-ranked European degree in the heart of London, surrounded by blue chip companies, major institutions and unrivalled networking opportunities.
Qualification:
MBA
Duration:
24 month programme:

12 months full-time on campus
12 months Final Management Project

Start date:
September
Campus available:
London
Fees:
Click for fees
Strong undergraduate degree from a recognised university
English Proficiency:

IELTS – 6.5 (6.0 in each component)
PTE – 63 (51 minimum in each component)

GMAT is not an obligatory requirement, but is considered an advantage and may be required for some applications. (Target score 550)
At least 3 years of relevant full time working experience
Learn more about: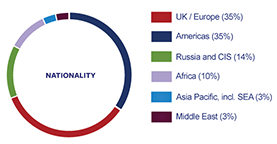 The GGSB MBA welcomes future business leaders from around the world, providing a global experience from the moment you arrive. The average age of the 2013 class was 29.7 years old.
From 29 GGSB MBA students – 2013 London Intake
Grenoble Graduate School of Business (GGSB)
Successful applicants will study towards an MBA from the triple-accredited institution, Grenoble Graduate School of Business. Triple accreditation is an honour shared by less than 1% of the world's elite business schools.
AMBA (Association of MBAs) – UK accreditation body
EQUIS (European Quality Improvement System) – EU accreditation body
AACSB (Association to Advance Collegiate Schools of Business) – USA accreditation body
This programme is specifically designed for high achieving individuals who want to take the next major step along their career path. As a two-year full-time degree it's a major undertaking, but the benefits of graduating from a programme at this level are immeasurable. You'll be focussed on developing a global career at strategic decision making level with a multinational company. It's a challenging but hugely rewarding programme that will set you apart, and raise your profile with a broad range of potential employers.
The programme examines the most fundamental concepts in international business including marketing, accounting, business law, and strategic management. You'll develop both the academic excellence and practical hands-on skills you need to succeed and you'll also have the opportunity to study specialist modules in year two, with the chance to study some modules in Grenoble. Learn more about the GGSB MBA programme here.
Opportunities made available upon completion of this programme allow graduates to fully appreciate the comprehensive education they have received. Students will benefit from a number of MBA specialisations, each offering a specialised skill set and comprehensive curriculum. Career pathways of GGSB MBA graduates is examined in detail in the Career Direction section.