MA in Strategic Marketing – Career Direction
Employability is embedded in the curriculum of our MA in Strategic Marketing . It equips you with the critical research, analysis, communication and management skills employers and marketing campaigns really need.
Our blend of academic and practical learning ensures you are equipped with everything you need to excel. Students will build tangible skills that translate to today's marketing environment. The syllabus is also constantly reviewed to guarantee total industry relevance.
Graduates of the MA in Strategic Marketing work in a range of marketing management positions, and in all parts of the world. Typical roles include:
Brand Management
Product Management
Service Marketing
Account Management
Market Research
This MA in Strategic Marketing programme has been designed by London School of Business & Finance (LSBF) and is validated and awarded by the International Telematic University UNINETTUNO.
Dedicated Careers Services
You will also gain a comprehensive and structured Careers Training programme – tailored to this MSc. This facilitates both personal and professional development (PDD) at every turn.
The Careers department will benchmark specific skills and outcomes for each module. We also devote time to sharpening the extra areas you need to really stand out. This includes leadership training and workshops covering areas such as interview techniques and use of social media.
Through our international corporate partners, our networking events will regularly put you in front of leaders, HR representatives and professionals from FSTE and Fortune 500 organisations.
Our Careers & Corporate Division is also ready with the advice and insight you need on anything from CV review and job applications, to presentation skills and to top tips on the marketing industry – for as long as you need it.
Class Profile – Employment Background and Career Aspirations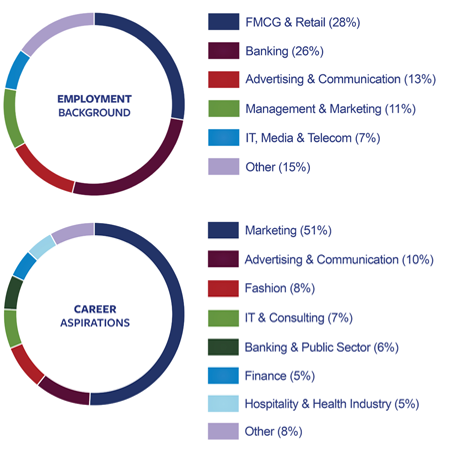 Employment Background: 46 MSc Marketing students responded from the following intakes: Sep 2010, Jan 2011, Apr 2011
Career Aspirations: 97 MSc Marketing students responded from the following intakes: Sep 2010, Jan 2011, Apr 2011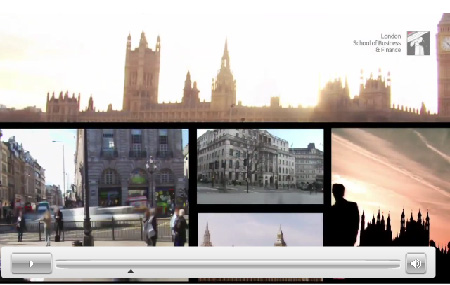 UK undergraduate degree (any class) or equivalent – any subject areas
English Levels 5.5 IELTS (5.5 in all bands)
No working experience is required, but it is considered an advantage
Students who fail to meet academic requirements can be assessed on their relevant work experience (5 years management experience minimum for mature study route)
Qualification:
MA in Strategic Marketing
Duration:
Full-time 15 months (12 months on campus, 3 months online dissertation)
Part-time 24 months (12-24 months on campus, 3-6 months online dissertation)
Online 15-36 months (100% online with optional blended study on campus)
Start dates:
February, June, September
Campus available:
London, Manchester, Birmingham, Online
Fees:
Click for fees